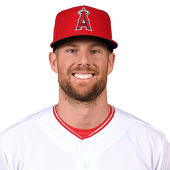 Zack Cozart
#2 SS / Cincinnati Reds / EXP: 5YRS
Height: 6-0
Weight: 195 lb
Age: 30
College: Mississippi
Bats/Throws R/R
Own

17%

Start

1%

SS Rank

NR
INJURY ALERT:
Questionable | Knee | Questionable for start of spring training
by Ruben Palacios | Staff Writer

Reds SS Zack Cozart progressing from knee injury

Reds shortstop Zack Cozart is making solid progress as continues to rehab his injured knee, per MLB.com. "It's been a slow three months, but it's crazy how every couple of weeks, I feel that much better," Cozart said on Monday. "I get to test my strength on Wednesday. If I'm strong enough, I get to begin running and some agilities." Cozart has been running on a zero-gravity treadmill, undergoing daily rehabilitation and a lot of weightlifting. "I've been doing a lot of therapy and little strengthening stuff to get the quad and hamstring stronger," Cozart said. "Every other day, I have a normal day where I go into the weight room and do my lower leg lifts and upper body lifts. I'm getting almost back to normal."

by Jason Butt | CBSSports.com

Reds SS Zack Cozart out nine months due to knee injury

The Reds announced on Thursday that shortstop Zack Cozart sustained torn ligaments and the biceps tendon in his right knee. Cozart is expected to have surgery on Monday and will be undergo rehab for nine months. This effectively ends his season. Cozart, who was placed on the 15-day disabled list, injured his knee Wednesday night against the Phillies and left the game. Reds manger Bryan Price previously said a disabled list trip was likely but the worst-case scenario appears to have taken place. Cozart's season will end with him hitting .258/.310/.459.

by Jason Lempert | Staff Writer

Reds manager Bryan Price expects a DL stint for Zack Cozart

Reds shortstop Zack Cozart, who left Wednesday's game with a knee injury, underwent an MRI. Manager Bryan Price says he hasn't gotten the results yet, but he is anticipating a possible trip to the disabled list for Cozart, according to the Cincinnati Enquirer. "It's safe to say he'll be going on the DL," Price said. "It's heartbreaking is what it is, to see him come off the field like that. Certainly, you don't want to see that at any time, but he was having a phenomenal year." Cozart had homered in three of his previous four games entering play Wednesday.

by Jason Lempert | Staff Writer

Reds SS Zack Cozart exits Wednesday's game in first inning

Reds shortstop Zack Cozart was forced to exit Wednesday's game against the Phillies in the bottom of the first inning. Cozart left with an apparent leg injury after stepping on first base awkwardly while trying to beat out a groundball. Cozart had to be helped off the field by the training staff. Kris Negron was moved from center field to shortstop, with Brennan Boesch entering the game in center.

by Jason Butt | CBSSports.com

Reds SS Zack Cozart goes yard for second straight game

Reds shortstop Zack Cozart hit his ninth home run of the season in Tuesday night's 11-2 win over the Phillies. Cozart went 1 for 5, with the homer being a three-run rocket in the first inning. For Cozart, it was the second consecutive game and the third out of his past four in which he notched a home run. Cozart is now hitting .259/.311/.461 this season.

by Jason Butt | CBSSports.com

Reds SS Zack Cozart hits eighth HR of season

Reds shortstop Zack Cozart totaled two RBI in Monday evening's 6-4 win over the Phillies. Cozart first hit an RBI double in the bottom of the third inning that scored Todd Frazier. He came back in the eighth inning and hit a solo home run to left field. He finished the game 3 for 4 with two runs scored. For Cozart, this is the second time in his past three games that he's hit a home run. He now has eight for the season. Cozart is slashing .261/.314/.452.

by Jason Lempert | Staff Writer

Reds SS Zack Cozart belts seventh home run in loss Saturday

Reds shortstop Zack Cozart went deep for the first time in about three weeks in Saturday's loss to the Padres. Cozart launched a solo shot off Andrew Cashner in the third inning to give the Reds a 4-0 lead. It was Cozart's seventh bomb of the year, and his only hit of the 9-7 loss on Saturday.

by Elliott Smith | Staff Writer

SS Zack Cozart's double helps Reds rally to win

Shortstop Zack Cozart's lone hit of the day was a big one, as his eighth-inning double proved to be the difference as the Reds rallied to beat the Nationals 8-5 on Saturday. Sitting on an 0-for-3 day, Cozart connected with two outs, driving a ball deep to center to help erase a 5-4 defict and spark a four-run eighth that propeled the Reds to their first back-to-back wins since May 12-14. Cozart now has 21 RBIs on the year and is hitting .271.

by Marty Gitlin | CBSSports.com

Many Reds have struggled against Nationals starter Gio Gonzalez

Nationals starter Gio Gonzalez has been hot-and-cold recently, but if history is any indication, he's likely to perform well Saturday in Cincinnati. Gonzalez has been lights-out in the past against several Reds hitters, including Brandon Phillips (1-8), Todd Frazier (0-5), Jay Bruce (2-10), Marlon Byrd (5-21) and Zack Cozart (1-11). The Reds have 16 hits in 116 at-bats lifetime against Gonzalez.

by Brandon Wise | Staff Writer

Reds reconfigure lineup in hopes of breaking losing skid

The Reds have adjusted their starting lineup on Tuesday, trying to break out of a nine-game losing streak. Shortstop Zack Cozart will bat leadoff for just the fifth time this season while first baseman Joey Votto will bat second for the second straight day after batting third for the majority of the season. Cozart is hitting .218 with 28 doubles in 459 at-bats from the lead off position. Votto is hitting .301 with 31 RBI in 186 at-bats from the two position in the lineup.