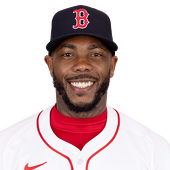 Aroldis Chapman
#54 RP / N.Y. Yankees / EXP: 6YRS
Height: 6-4
Weight: 215 lb
Age: 27
College: None
Bats/Throws L/L
Own

92%

Start

85%

RP Rank

4
by RotoWire Staff | Special to CBSSports.com

Yankees' Aroldis Chapman: Will not face criminal charges

Chapman will not face criminal charges in relation to an Oct. 30 domestic dispute at his home in Davie, Florida, the South Florida Sun-Sentinel reports. While prosecutors have opted against filing charges, punishment from Major League Baseball remains a very real possibility for Chapman. According to a police report, Chapman admitted that he fired eight shots into a wall and window while locked in a his garage after the initial dispute with his girlfriend. MLB's new domestic violence policy allows commissioner Rob Manfred to impose discipline even if there is not a criminal conviction. Speaking on the topic Thursday, Manfred said, "When you have a new policy, the first ones take on a special significance in terms of tone and precedent and all those things. I'm going to be sure that I know everything I could possibly know about each of these cases before I make any decisions." Manager Joe Girardi said last week that Chapman will enter spring training as the Yankees' closer.

by RotoWire Staff | Special to CBSSports.com

Yankees' Aroldis Chapman: Will enter spring training as closer

Manager Joe Girardi said on Monday's edition of Yankees Hot Stove on YES Network that Chapman will enter spring training as the team's closer. Although Chapman eventually found a new home via a Dec. 28 trade from Cincinnati to New York, an earlier deal to the Dodgers was nixed due to a domestic-violence allegation, which is expected to impact him at some point during the upcoming campaign. Nevertheless, his track record in the closer's role has translated to 30-plus saves in each of the last four seasons, usurping that of the last year's closer Andrew Miller and making Chapman the logical man for the job.

by RotoWire Staff | Special to CBSSports.com

Yankees' Aroldis Chapman: Traded to Yankees

Chapman was traded to the Yankees, Ken Rosenthal of Fox Sports reports. The Yankees gave up four minor-league prospects to acquire Chapman from the Reds, nearly four weeks after the planned trade to the Dodgers last month was nixed due to the closer's domestic-violence allegations stemming from an incident in late October. With their newest acquisition, Chapman now joins Andrew Miller and Dellin Betances to form a devastating power-arm bullpen, and it doesn't seem as if any of them will be on the move at the moment. While sources indicate the Yankees are expecting to lose the 28-year-old for some portion of the season due the alleged domestic-violence incident, it doesn't appear as if he will miss the entire season. Thus his role will likely be decided once the MLB officially makes its decision on the alleged incident, but for now the Yankees look to have one of the strongest bullpens in all of baseball.

by RotoWire Staff | Special to CBSSports.com

Dodgers' Aroldis Chapman: Trade to Dodgers in limbo

Chapman's trade to the Dodgers could be curtailed because of a domestic-violence allegation from late October, Ken Rosenthal of FOX Sports reports. Chapman's move to Los Angeles was made public Monday but the official transaction will remain in limbo until further announcements are made by the league and the teams involved, which could take multiple weeks.

by RotoWire Staff | Special to CBSSports.com

Reds' Aroldis Chapman: Trade to Dodgers pending physical

Chapman has been traded to the Dodgers for two prospects pending a physical, Fox Sports' Ken Rosenthal reports. Details regarding the prospects will likely surface soon, but the deal would give the Dodgers a premier 1-2 punch in the back of the bullpen assuming that the plan is to pair Chapman with current close Kenley Jansen. Given the extremely high cost of starting pitching on the free-agent market this winter, the Dodgers appear to be among the teams interested strengthening the bullpen as a way of reducing the impact of back-end starters.

by RotoWire Staff | Special to CBSSports.com

Reds' Aroldis Chapman: Will be tendered contract

Chapman will be tendered a contract by the Reds on Wednesday. This was a no-brainer, because while Chapman figures to receive more than $10 million in his third year of arbitration, he's worth every penny and more as one of baseball's most dominant closers. The Reds have acknowledged that they are fielding offers for Chapman, and something will likely get done before 2016, though it's not entirely clear who the frontrunners are.

by RotoWire Staff | Special to CBSSports.com

Reds RP Aroldis Chapman records four outs for 33rd save on Saturday

Reds closer Aroldis Chapman secured his 33rd save in Saturday's 3-1 victory over the Pirates, striking out two and not allowing a hit in 1 1/3 innings. Chapman is putting the finishing touches on another season of dominating opposing hitters in the late innings, raising his strikeout rate to an eye-popping 42 percent after recording another two whiffs on Saturday. He has also turned in scoreless efforts in 10 out of his last 11 appearances. The 27-year-old has also now lowered his ERA for three successive seasons, with his current 1.66 mark representing his lowest total since the 1.51 figure he'd posted in 2012.

by RotoWire Staff | Special to CBSSports.com

Reds closer Aroldis Chapman suffers rare meltdown Tuesday

Reds closer Aroldis Chapman stole a win Tuesday against San Francisco after blowing his third save of the season. He finished with two runs (one earned) allowed on three hits and a walk in 1 2/3 innings. Chapman's six consecutive save streak is snapped and his record is now up to 4-4. Chapman has still been brilliant all year, as he boasts a 1.80 ERA. After two strikeouts and a walk Tuesday night, his K:BB sits at 107:30.

by Jason Lempert | Staff Writer

Reds RP Aroldis Chapman survives shaky inning for 27th save

Reds closer Aroldis Chapman had to dance out of danger to record his 27th save of the year on Wednesday against the Cubs. Chapman entered the ninth inning with the Reds up by three, and he allowed two of the first three batters to reach safely, bringing the tying run to the plate. But he enduced a fielder's choice groundout and got Dexter Fowler swinging to close out the game and protect the 7-4 win.

by Sean d'Oliveira | CBSSports.com

Reds RP Aroldis Chapman picks up save Monday

Reds pitcher Aroldis Chapman earned his 26th save of the season during Monday's 13-6 win over the Cubs. Chapman allowed a solo home run over 1 2/3 innings to pick up the save. His ERA is now 1.82.