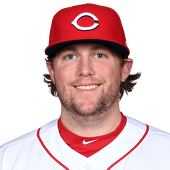 Drew Storen
#22 RP / Washington Nationals / EXP: 6YRS
Height: 6-1
Weight: 195 lb
Age: 28
College: Stanford
Bats/Throws S/R
Own

47%

Start

22%

RP Rank

NR
by Jason Lempert | Staff Writer

Nationals' Drew Storen has fractured thumb, season likely over

Nationals reliever Drew Storen has been diagnosed with a non-displaced fracture in his right thumb. Storen suffered the injury when he slammed his locker shut after allowing a key home run in a loss to the Mets on Wednesday. Storen is unlikely to return this season. If indeed his season his done, Storen will finish 2015 with 29 saves and a 3.44 ERA in 58 appearances. His season went in a downward spiral once he was bumped from the closer's role following the team's acquisition of Jonathan Papelbon at the July 31 trade deadline. Storen will visit a hand specialist to determine the severity of the injury.

by Jason Lempert | Staff Writer

Nationals RP Drew Storen allows go-ahead grand slam in loss

Nationals reliever Drew Storen saw his recent stretch of dominance fade on Friday night. With the Nationals up 4-1 on the Rockies, Storen served up a go-ahead grand slam to Carlos Gonzalez in the top of the eighth inning to give the Rockies the 5-4 lead, which would be the final score. Storen was saddled with his first blown save and first loss of the season. It was the first time he had been scored upon since June 24, spanning 14 appearances between runs allowed. His season ERA shot up from 1.52 to 2.34 with one swing of the bat.

by Marty Gitlin | CBSSports.com

Nationals RP Drew Storen unhappy about move to setup role

Deposed Nationals closer Drew Storen is not taking his exile from that role lying down. But he's also not opening up to the media about his displeasure. Storen is now the setup man in the wake of the trade that brought veteran Jonathan Papelbon to Washington. He is displased, especially considering he has nailed down 29 of 31 save opportunities and boasts a fine 1.71 ERA. "Really, all I'm going to say is that obviously I'm aware of the move," Storen told MASN Sports. "I've talked to (Nationals general manager Mike Rizzo) about it. I've talked to my agent. We've had some ongoing discussions. I'm just going to leave it at that and no comment for now." Storen has not yielded a run since June 24 and is on a scoreless run of 8 1/3 innings.

by Jason Lempert | Staff Writer

Nationals RP Drew Storen moving to set-up role following trade

With the Nationals reportedly set to acquire right-hander Jonathan Papelbon from the Phillies, incumbent closer Drew Storen will be relegated to set-up duties, according to CBS Sports Baseball Inside Jon Heyman. Storen has had a terrific season so far as the Nationals' closer. He is 29-for-31 in save chances and has a 1.73 ERA this season. Still, the acquisition will give the Nationals a formidable back-end of the bullpen with a pair of stud closers at manager Matt Williams' disposal.

by Elliott Smith | Staff Writer

RP Drew Storen snags 29th save for Nationals

Drew Storen picked up his 29th save in style, striking out the side Wednesday to help the Nationals cap a come-from-behind win over the Mets. Storen now has the second-most saves in baseball, one behind Pittsburgh's Mark Melancon. He has registered eight straight saves since suffering only his second blown save of the season on June 24, which was also the last time Storen allowed a run.

by Shawn Krest | CBSSports.com

Drew Storen records 28th save for Nationals

Nationals closer Drew Storen pitched a scoreless ninth inning in Saturday's completion of a suspended game against the Dodgers. Storen allowed one hit and walked a batter, but he was able to close out the game and earn his 28th save of the year. Storen has recorded saves in his last seven games, all scoreless outings. It's the third time over that stretch that he's allowed two baserunners in his inning of work.

by Elliott Smith | Staff Writer

Drew Storen nabs one-out save for Nationals

Drew Storen didn't have to do much work for his 27th save of the season, retiring one batter in the ninth to preserve the Nationals' 3-2 win Sunday. Storen needed just four pitches to whiff the final batter of the contest and earn just his second one-out save of the year. The Nats' closer has now recorded six straight saves.

by Jason Lempert | Staff Writer

Nationals RP Drew Storen gets 26th save on Saturday

Nationals closer Drew Storen nailed down his 26th save of the season in Saturday's 7-4 win over the Orioles. Storen's outing was not without some drama, as he allowed a walk and a base hit to bring Adam Jones up as the tying run. But he got Jones to pop up and end the game. Storen has converted 26 of 24 save chances this season.

by Ruben Palacios | Staff Writer

Nationals closer Drew Storen notches 25th save of season

Nationals closer Drew Storen shut the door on the Giants on Sunday and recorded his 25th save of the season while doing do. Storen needed just 15 pitches to close out the ninth inning of a 3-1 win over San Francisco. He is second in the National league with 25 saves. Storen (1-0) has a 1.97 ERA with 37 strikeouts and seven walks in 32 innings of relief this season.

by Jason Butt | CBSSports.com

Nationals P Drew Storen picks up save in win over Giants

Nationals closer Drew Storen pitched a perfect ninth inning to earn a save in Friday night's 2-1 win over the Giants. Storen recorded two groundouts and a pop out in his appearnce. After hitting a skid that saw Storen give up eight hits in five appearances from June 16 through June 26, Storen has held batters without hits or runs in his last two outings. This was Storen's 24th save of the year. He now has a 2.03 ERA.