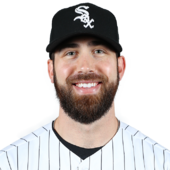 Zach Putnam
#57 RP / Chi. White Sox / EXP: 5YRS
Height: 6-2
Weight: 225 lb
Age: 28
College: None
Bats/Throws R/R
Own

1%

Start

0%

RP Rank

NR
by RotoWire Staff | Special to CBSSports.com

White Sox's Zach Putnam: Avoids arbitration with White Sox

Putnam agreed to a one-year, $975K deal with the White Sox on Friday, avoiding arbitration, Doug Padilla of ESPN Chicago reports. After shutting down opposing batters in 2014 with a 1.98 ERA to go with a 1.079 WHIP in 2014, Putnam came back to earth last season with more pedestrian numbers (4.07 ERA, 1.356 WHIP) in the same amount of appearances. He saw the bulk of his appearances in the eighth inning last season, but he made several middle-relief and low-leverage outings towards the end of the season.

by Elliott Smith | Staff Writer

White Sox activate RP Zach Putnam

The White Sox announced Friday they have activated reliever Zach Putnam off the 15-day disabled list, per MLB.com. Putnam went on the DL on Aug. 29 with a groin strain. He is 3-3 with a 3.07 ERA in 41 appearances this season.

by Jason Lempert | Staff Writer

White Sox relievers Daniel Webb, Zach Putnam swap places on DL

The White Sox have activated right-handed reliever Daniel Webb from the 15-day disabled list. Webb had been out since early August with a back issue. To make room for him on the 25-man roster, Zach Putnam has been placed on the 15-day DL with a right groin strain (retroactive to August 27).

by Shawn Krest | CBSSports.com

White Sox's Zach Putnam takes loss in relief

White Sox reliever Zach Putnam gave up a walk-off home run with one out in the ninth inning on Sunday to lose to Detroit. Putnam dropped to 1-3 on the season, giving up a run in his second relief appearance in a row. Putnam entered a tie game with one out in the eighth and stranded a runner. He struck out two and the only hit he allowed was the walk-off. He hadn't given up a run in 11 appearances, dating back to May 19.

by Shawn Krest | CBSSports.com

White Sox David Robertson helping Zach Putnam learn cutter

White Sox closer David Robertson learned the cutter from one of baseball's best practitioners of the pitch--Mariano Rivera. Robertson is now passing on that knowledge to Chicago bullpen-mate Zach Putnam. "I'm trying to have him impart some of that knowledge on to me as I develop that pitch as a third pitch," Putnam said, per MLB.com. "It was almost surreal listening to him talk yesterday. He was like, 'Mo holds his like this and does this with it,' and I'm like, 'I wish I had a camera to record all this so I have it for future reference.' But I'm trying to learn from him whenever I can."

by Jason Butt | CBSSports.com

White Sox P Zach Putnam has long inning in loss to Twins

White Sox pitcher Zach Putnam threw 27 pitches in the top of the ninth inning of Friday's 6-0 loss to the Twins. Putnam gave up three runs, with two of them being earned. The lone unearned run came due to a throwing error. Putnam gave up three hits in the inning. An at-bat against Torii Hunter went five pitches and an at-bat against Kennys Vargas went six pitches. Hunter singled and Vargas struck out.

by Brandon Wise | Staff Writer

White Sox pitcher Zach Putnam tosses straight scoreless appearance

White Sox pitcher Zach Putnam continues to make a push for a role in the bullpen. That journey continued Monday, throwing his fourth consecutive scoreless appearances after giving up eight runs over 3 2/3 innings in his first four games of spring training. "I feel as if it's been there since the start of camp, but what changed was the frequency with which I was throwing it," Putnam said to MLB.com. "I was going into at-bats early on trying to kind of work on my fastball and polish my cutter just a little bit. "When you are not fine with those pitches and guys are coming in taking massive hacks trying to hit homers, as they are sometime in Spring Training, I got hurt a lot. As soon as I figured it out and started throwing it more and setting up hitters the same way I set them up during the season, things fell into place for me."

by Dave Peters | CBSSports.com

White Sox P Zach Putnam hopes to earn bullpen role

Coming off of a successful year in 2014, White Sox pitcher Zach Putnam has struggled in spring training, per MLB.com. Putnam is looking to wrap up a spot on the team's bullpen roster for 2015. He finished last year with an ERA of 1.98 in 54 2/3 innings pitched. This spring has been different, as he has had a rough go of it with an ERA of 19.64 in only three innings pitched. Manager Don Cooper is looking at the bigger picture. "You never should go on Spring Training, good or bad," Cooper said. "For three or four innings, are we throwing out the [54 2/3] he got last year? That's silly. "He's not where we want him to be. He's close. But it would be nice to see him go out there and have a couple of innings where he puts it all together. He's putting it together for hitters, but not for a full inning just yet." Coming into spring training it appeared that Putnam would be a lock for a bullpen spot. His objectives have not changed as he battles to earn the role. "Whether I'm in a position where I am in this year or a position like I have been in previous Spring Trainings, the objective is the same: Go out there and get guys out and prove to these guys that I'm the man for the job, whatever job that may be," Putnam said. "Whatever happens will happen. "Nobody is bigger than the game. This is the ultimate humbler I guess, so coming off a good season last year, that stuff is in the past. Right now for us and guys who are struggling a little bit statistically, just put that stuff out of your mind and just focus on what you're doing, focus on your craft, which is what we're all just trying to do right now."

by Brandon Wise | Staff Writer

White Sox pitcher Zach Putnam misses Wednesday with illness

White Sox relief pitcher Zach Putnam was held out of Wednesday's game against the Dodgers with a stomach ailment, reports MLB.com. Putnam, who is also dealing with a back injury during spring training, went 5-3 in 2014 with a 1.98 ERA and 46 strikeouts in 54 2/3 innings pitched.

by Sean d'Oliveira | CBSSports.com

White Sox's Zach Putnam dealing with back issue

White Sox pitcher Zach Putnam has been dealing with a tight back, but he said it's a minor issue, reports the Chicago Sun-Times. Putnam has had his back wrapped the last two days.