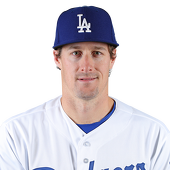 Tom Koehler
#34 SP / Miami Marlins / EXP: 4YRS
Height: 6-3
Weight: 235 lb
Age: 29
College: None
Bats/Throws R/R
Own

33%

Start

19%

SP Rank

NR
by RotoWire Staff | Special to CBSSports.com

Marlins' Tom Koehler: Avoids arbitration with Marlins

Koehler agreed to a one-year deal with the Marlins on Friday, avoiding arbitration, MLB.com's Joe Frisaro reports. The 29-year-old righty wouldn't be in the mix for a rotation spot on most teams, but the Marlins aren't most teams. His 17.1% K-rate from last year is abysmal, and odds are he will once again sport an ERA north of 4.00. Still, he should be expected to eat innings once again at the back of Miami's rotation.

by RotoWire Staff | Special to CBSSports.com

Marlins pitcher Tom Koehler takes no-decision Saturday

Marlins pitcher Tom Koehler escaped with a no-decision in Game 1 of Saturday's double-header, allowing five runs (four earned) on six hits. He gave up at least four runs in each of his last three starts, but Koehler's 4.15 ERA on the season as a starter will keep him in consideration for a spot at the back of the Marlins rotation in 2016.

by RotoWire Staff | Special to CBSSports.com

Marlins SP Tom Koehler collects 11th win Sunday

Marlins starting pitcher Tom Koehler collected his 11th win of the season Sunday, allowing four runs on nine hits over 6 2/3 innings to beat the Braves. The veteran right-hander struggled with command once again, walking five batters against two strikeouts. He managed to keep things close enough for the Miami offense to get a win. Koelher has won two of his last three starts, despite posting a miserable 12:11 strikeout-to-walk rate over 17 2/3 innings. He'll head into his final start of the season Saturday in Philadelphia with an even 4.00 ERA, 1.35 WHIP and 132 strikeouts over 182 1/3 innings pitched.

by RotoWire Staff | Special to CBSSports.com

Marlins' Tom Koehler falls to 10-14 with loss to Phillies on Tuesday

Marlins starter Tom Koehler (10-14) surrendered seven hits, four runs (three earned) and three walks in five innings in Tuesday's 6-2 loss to the Phillies. He struck out five. The veteran right-hander has actually turned in a strong September, with Tuesday's outing being the first non-quality start of his four trips to the mound during the month. Koehler failed to get past the fifth inning for the first time since an Aug. 19 outing against the Brewers and also gave up a homer for the first time in September. He fell victim Tuesday to the double whammy of not being able to miss many bats (only five swings-and-misses over 94 pitches) and struggling with his control. Koehler has given up at least two or more walks in 11 out of his last 15 starts, and the 14 free passes he's issued in September are his second-highest monthly total in the category in the 2015 season.

by CBSSports.com Staff | CBSSports.com

Marlins SP Tom Koehler beats Mets for second time in his career

Marlins starter Tom Koehler gave up just one run on five hits while walking four and striking out four over six innings against the Mets on Tuesday. Just 55 of his 102 pitches went for strikes, but Koehler was somehow able to navigate the Mets' lineup to great effect. His 3.90 ERA is noticeably lower than his 4.45 FIP or his 4.56 xFIP and his 6.59 K/9 ranks in the bottom 20 among qualified starters. That said, he has an appealing matchup in his next start Tuesday at home against the Phillies.

by Sean d'Oliveira | CBSSports.com

Marlins SP Tom Koehler strikes out 10 in Wednesday's win

Marlins pitcher Tom Koehler had one of his best performances of the season during Wednesday's 5-2 win over the Brewers. Koehler struck out a season-high 10 batters while giving up two runs over eight innings of work. He also allowed four hits and walked two. Koehler improved to 9-13 with a 3.99 ERA on the season. Prior to Wednesday's win, Koehler had lost seven out of his last eight outings.

by Marty Gitlin | CBSSports.com

Big blasts battered Marlins SP Tom Koehler in loss to Nationals

The good news is that Marlins starter Tom Koehler walked none Saturday in Washington for the first time in his last 11 starts. The bad news is that he continued to give up plenty of hits and runs. The other bad news is that he's now 8-13. Koehler gave up five runs on nine hits in six innings while fanning four. Three of those hits left the yard. Ryan Zimmerman homered in the second, then Clint Robinson and Ian Desmond took him deep in the sixth. Koehler has yielded 30 runs over his last 39 2/3 innings to send his ERA soaring from 3.16 to 4.12.

by Marty Gitlin | CBSSports.com

Poor run support dooms Marlins SP Tom Koehler to defeat

Marlins starter Tom Koehler pitched well enough to win Monday against Pittsburgh. But pitching well enough to win and actually winning are two different things. Koehler did his part, allowing just two runs on seven hits in six innings with four walks and six strikeouts. But the Miami offense did not keep up, resulting in a loss that lowered his record on the year to 8-12. The lone runs he yielded came home on a two-run double by Andrew McCutchen in the third. Koehler rebounded nicely from an awful performance last Tuesday. His ERA now rests at a respectable 3.98.

by Jason Lempert | Staff Writer

Marlins SP Tom Koehler gets rocked by Brewers in loss Wednesday

Marlins starter Tom Koehler struggled in his outing against the Brewers on Wednesday. The right-hander allowed seven runs on nine hits over 4 1/3 innings. He walked four and struck out four, but took the loss in the 8-7 defeat. Koehler (8-11, 4.02 ERA) was given a 3-0 lead before he even took the mound. But he was tormented by Khris Davis in this one, as Davis took him deep for a two-run homer in the second and tied the game at 5-5 with a three-run bomb in the third. The Marlins were able to take the lead in the fifth inning, but Koehler gave two more runs in the bottom half before being pulled from the game. This was a bit of a regression for Koehler, who came into the game having allowed five runs combined over his previous two starts. Overall, Koehler is 0-5 with a 8.15 ERA over his past five starts.

by Shawn Krest | CBSSports.com

Marlins' Tom Koehler loses fourth straight

Marlins pitcher Tom Koehler suffered his fourth straight loss, Friday against St. Louis. Since his last win on July 23, Koehler has a 6.17 ERA. On Friday, he allowed two runs on five hits, both his lowest since his last win. He lasted seven innings, also the longest since his win. Koehler dropped to 8-10 on the year.