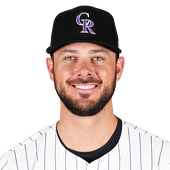 Kris Bryant
#17 3B / Chi. Cubs Cubs / EXP: 1YRS
Height: 6-5
Weight: 215 lb
Age: 23
College: San Diego
Bats/Throws R/R
Own

98%

Start

94%

3B Rank

4
by RotoWire Staff | Special to CBSSports.com

Cubs 3B Kris Bryant slugs 25th homer in win over Cardinals

Cubs third baseman Kris Bryant went 2 for 3 Saturday with a walk, a double, two runs scored, two RBI and his 25th home run of the season. He's now tied the Cubs record for most home runs in a season by a rookie, set in 1961 by Hall of Famer Billy Williams. Bryant's 95 RBI also leads all rookies this season, and he seems all but certain to top the century mark as the team heads toward the playoffs.

by CBSSports.com Staff | CBSSports.com

Cubs give Kris Bryant a rare day off on Friday vs. Cardinals

Cubs third baseman Kris Bryant is out of the lineup for Friday's game against the Cardinals. Days off for Bryant are rare, considering this is only his second day off since the beginning of August, but he'll hit the bench while Tommy La Stella covers third base. He has been seeing much more frequent starts in the outfield since Jorge Soler hit the DL with an oblique strain, but that might come to an end with the Cuban's return Thursday.

by RotoWire Staff | Special to CBSSports.com

Cubs 3B Kris Bryant gets three hits in win over Pirates

Cubs third baseman Kris Bryant went 3 for 4 with two doubles, a walk and a run scored in Thursday's 9-6 victory over the Pirates. Thursday's tally brought Bryant's average to .600 (6 for 10) over the final two games of the key four-game set against the Pirates. The rookie sensation is following up a torrid August with a very productive September that has already seen him amass six doubles, three homers and 13 RBI.

by RotoWire Staff | Special to CBSSports.com

Cubs 3B Kris Bryant snaps slump with three-hit outburst

Cubs third baseman Kris Bryant went 3 for 6 with two doubles, one RBI, one steal and one run in a 3-2 win over the Pirates on Wednesday. Bryant was just 2 for 15 over his last four games, but he broke out of his mini-slump big time with this monster line. The only concern for the young power-hitter is the strikeouts, as he has 181 in 500 at-bats this season. If he can clean up that 36 percent strikeout rate, Bryant could become an even more elite hitter than he already is.

by Elliott Smith | Staff Writer

3B Kris Bryant blasts two homers in Cubs' win

Kris Bryant was an offensive force for the red-hot Cubs Sunday, crushing two home runs and driving in three runs in Chicago's 9-3 rout of the Braves. Bryant's two longballs gave him 19 on the season. He hit a 404-foot, two-run shot to right field in the first inning and then added a solo shot to center in the sixth. Bryant, like most of the Cubs, has been productive in August, with five homers and 14 RBIs to go along with 24 hits in the month.

by Ruben Palacios | Staff Writer

Cubs 3B Kris Bryant doubles, homers in two-RBI performance

Cubs third baseman Kris Bryant went 4 for 4 with a double, a home run and two RBI in Wednesday's loss to the Tigers. Bryant is hitting .358 with 19 hits, four doubles, three home runs and eight RBI in his last 15 games.

by Shawn Krest | CBSSports.com

Cubs' Kris Bryant has 12-game hit streak snapped

Cubs third baseman Kris Bryant went 0 for 4 in Sunday's loss to the White Sox. Bryant struck out three times and saw his 12-game hitting streak come to an end. Bryant hit .341 with 1.010 OPS over the streak.

by Marty Gitlin | CBSSports.com

Cubs slugger Kris Bryant happy to learn from struggles

Cubs rookie Kris Bryant isn't happy he has been mired in the first slump of his career. But he is turning it into a positive in his mind. Bryant is hitting just .162 with two home runs in 21 games since the All-Star break. "I wouldn't really want to come out my first year and dominate," he told the Chicago Tribune. "You want to keep getting better. To come out and domiante your first year, I don't think you'd learn too much from it. ... I'm learning a lot from the struggles. At the same time, I'm ready to get out of it." Bryant might be doing just that with a five-game hitting streak, though he has no multi-hit games since July 27.

by Jason Lempert | Staff Writer

Cubs' Kris Bryant to avoid head-first slides following Sunday's scare

After a scary play at second base almost left him with a head injury on Sunday, Cubs third baseman Kris Bryant says he will give up head-first sliding. Bryant slid into second base in the fifth inning of Sunday's win over the Brewers, and was immediately taken out of the game with diziness after crashing into shortstop Jean Segura. He was able to return to the lineup on Monday, but he said he will no long employ the use of a head-first slide. "I have only one head, only one life," Bryant said per the Chicago Tribune. "There's nothing really to joke about with that. So we're taking this very seriously. "It's instinct. I think that was the hardest I've run. I run very hard every time and looking back, I think I'll be sliding feet first."

by Michael Hurcomb | Fantasy Writer

Cubs 3B Kris Bryant able to start Monday vs. Pirates

Cubs third baseman Kris Bryant bounced back quickly from a head/neck injury he suffered Sunday, as he was in the starting lineup Monday against the Pirates. Bryant also went through the concussion protocol Sunday. Bryant is batting just .149 with 34 strikeouts in his last 25 games. He also has two doubles, two triples, two home runs, 12 RBI, 10 runs and 14 walks in that span.