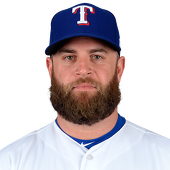 Mike Napoli
#25 1B / Texas Rangers / EXP: 10YRS
Height: 6-0
Weight: 220 lb
Age: 34
College: No College
Bats/Throws R/R
Own

29%

Start

14%

1B Rank

NR
by RotoWire Staff | Special to CBSSports.com

Texas Rangers' Mike Napoli Not part of Friday's lineup

Napoli is not in the lineup for Game 2 of the ALDS Friday against the Blue Jays, according to Rangers VP of Comm. John Blake. Napoli, who went 0-for-3 with a walk in Game 1, will be replaced in the lineup by Mitch Moreland with the Rangers facing right-hander Marcus Stroman on Friday afternoon.

by RotoWire Staff | Special to CBSSports.com

Texas Rangers' Mike Napoli Starting Game 1 of ALDS

Napoli is in the lineup for Game 1 of the ALDS, Evan Grant of the Dallas Morning News reports. With Prince Fielder slotted in at DH, Napoli will take over at first base and hit fifth in the order against lefty David Price. The 33-year-old has actually performed well against lefties this season -- in 152 at-bats this season, Napoli has hit 12 homers and 26 RBI and he's also sporting a career .278 batting average against southpaws. However that success hasn't translated against Price -- in his 10-year career, he's gone 8-for-34 with 19 strikeouts against the veteran ace for the Blue Jays.

by RotoWire Staff | Special to CBSSports.com

Rangers OF Mike Napoli connects for HR Wednesday

Rangers outfielder Mike Napoli returned to the lineup with a three-run homer in Wednesday's rout of the Astros. He's not much of a left fielder, but the Rangers want Napoli's bat in the lineup, so he's getting some play there despite his fielding issues. He's hitting .294/.390/.549 since coming back to Texas -- quite a far cry from the .693 OPS he posted in 98 games with the Red Sox this year.

by CBSSports.com Staff | CBSSports.com

Rangers' Mike Napoli takes a seat on Tuesday

Rangers first baseman/oufielder Mike Napoli will be back in the lineup Wednesday against Houston, Stefan Stevenson of the Fort Worth Star-Telegram reports. The veteran saw a pair of starts in left field Sunday and Monday, but he's being held out of Tuesday's lineup. The Rangers have since insisted that playing Napoli in left is "not an experiment," and the expectation is that he'll be back in the lineup with left-hander Dallas Keuchel on the mound for Houston on Wednesday. Barring extreme struggles adjusting to the new position - Napoli booted an easy fly ball Monday - Napoli will likely start in left field against most lefties. The veteran is hitting just .192 against right-handers on the year, compared to .260 versus southpaws.

by Marty Gitlin | CBSSports.com

1B Mike Napoli starting Saturday for Rangers

The Rangers have plugged newcomer Mike Napoli right into their lineup at the first opportunity Saturday against Seattle. He is playing first base and batting fifth against Seattle left-hander Mike Montgomery. Napoli has struggled all season and arrives in Texas with a slash line of .207/.307/.386. It is hoped that a change of scenery will get him rolling, but he is quite likely to platoon with Mitch Moreland.

by Marty Gitlin | CBSSports.com

Red Sox deal 1B Mike Napoli to Rangers

The Rangers have confirmed that they have acquired first baseman Mike Napoli from the Red Sox. Napoli, who had been in the Friday lineup for Boston before being scratched, owns a .207/.307/.386 slash line. His batting average has not ascended over .214 all season. He is expected to arrive in time for the Saturday game against Seattle, per the Seattle Times.

by Marty Gitlin | CBSSports.com

Red Sox 1B Mike Napoli scratched from Friday lineup

Red Sox first baseman Mike Napoli has been scratched from the lineup Friday in Detroit for a reason yet to be revealed. It is not injury related, according to the Providence Journal. Napoli is slumping again after a recent hot streak. He has just six hits in his last 32 at-bats.

by Jason Lempert | Staff Writer

Red Sox 1B Mike Napoli homers, doubles in loss on Wednesday

First baseman Mike Napoli was the lone bright spot for the Red Sox in the 9-2 loss to the White Sox on Wednesday. Napoli went 2 for 3 with a double, two RBI and a solo home run. Napoli's seventh-inning home run, his 12th of the year, gave the Red Sox their second run of the game of Jose Quintana. After going through some rough times, Napoli is starting to show some signs of life at the plate. Over his last 10 games, Napoli is batting .364 (12 for 33) with two home runs and seven RBI.

by Sean d'Oliveira | CBSSports.com

Red Sox 1B Mike Napoli ejected from Monday's game

Red Sox first baseman Mike Napoli was ejected during the first inning of Monday's game against the White Sox, reports the Providence Journal. Napoli was ejected for arguing balls and strikes. He was replaced at first base by Daniel Nava.

by Marty Gitlin | CBSSports.com

Farrell encouraged by run of Red Sox 1B Mike Napoli

It might take the rest of the season for Red Sox first baseman Mike Napoli to improve his numbers to career norms, but he has at least going in the right direction. Napoli is 8-for-21 with three doubles and a home run over his last six games. That has proven encouraging to John Farrell. "More than anything, he's not missing pitches in the strike zone," Farrell told the Boston Herald. "When he's gotten a mistake in the middle of the plate, he's squared it up. ... Whether it's the fact that he's seeing the ball better right now or whether he's more relaxed and confident, he's in a pretty good run."