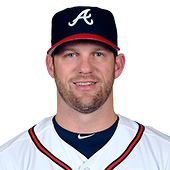 Eric Stults
SP / Atlanta Braves / EXP: YRS / MINORS
Height:
Weight: lb
Age:
College: None
Bats/Throws -/-
Own

1%

Start

0%

SP Rank

NR
by Jason Butt | CBSSports.com

Dodgers P Eric Stults accepts assignment to Double-A Tulsa

Dodgers pitcher Eric Stults has accepted his outright assignment to Double-A Tulsa, according to True Blue LA. The Dodgers outrighted Stults to Tulsa on May 31 after he was acquired in a trade from the Braves. He's 1-5 with a 5.85 ERA in 47 2/3 innings this season.

by R.J. White | CBSSports.com

Dodgers outright Eric Stults to Double-A

The Dodgers sent pitcher Eric Stults outright to Double-A Tulsa on Saturday. Stults was acquired from the Braves earlier this week and immediately designated for assignment. He was 1-5 with a 5.85 ERA and 31:13 K:BB ratio in 47 2/3 innings before being traded.

by Brandon Wise | Staff Writer

Dodgers acquire Alberto Callaspo, three others from Braves

The Dodgers have officially acquired third baseman Alberto Callaspo, pitcher Ian Thomas, pitcher Juan Jaime and pitcher Eric Stults from the Braves, the team announced on Wednesday. Callaspo, who originally rejected the deal, will be placed on the active roster. Thomas will be optioned to Triple-A Oklahoma City while Jaime will go to extended spring training. Stults has been designated for assignment.

by Sean d'Oliveira | CBSSports.com

Report: Braves send Eric Stults, Ian Thomas, Juan Jaime to Dodgers

As part of the trade sending Braves infielder Alberto Callaspo to the Dodgers in exchange for Juan Uribe, the Braves will also send Eric Stults, Ian Thomas and Juan Jaime to the Dodgers, reports the Atlanta Journal-Constitution. The Braves are reportedly expected to receive pitcher Chris Withrow in the deal as well, reports FoxSports.

by Sean d'Oliveira | CBSSports.com

Braves SP Eric Stults gives up seven runs in Friday's loss

Braves pitcher Eric Stults failed to get past the fourth inning during Friday's 11-0 loss to the Brewers. Stults allowed seven runs on three hits over 3 2/3 innings of work. The seven runs were a season high for Stults. He also walked five batters and struck out five. His biggest mistake was surrendering a two-run home run to Ryan Braun in the first inning. Stults has given up 12 runs in his last two starts and he has not pitched past the seventh inning in any of his eight starts this season. Stults started in place of Alex Wood, who was scratched due to an illness.

by Michael Hurcomb | Fantasy Writer

Braves SP Alex Wood scratched Friday due to stomach virus

Braves starting pitcher Alex Wood was scratched from his scheduled start Friday against the Brewers due to a stomach virus. Eric Stults will start in his absence. Wood headed into Friday's start with a 1-1 record and 3.50 ERA in three May starts. Although, he has struggled at home this season, going 0-2 with a 6.19 ERA in three starts. Stults, who was moved to the bullpen earlier this week, is 1-4 with a 5.36 ERA in seven starts. The Brewers are batting just .201 against lefties in 2015, which is the second-lowest average in the majors.

by R.J. White | CBSSports.com

Braves' Williams Perez to start Wednesday; Eric Stults to bullpen

The Braves announced Sunday that pitcher Williams Perez will make his first major-league start Wednesday against the Rays, with pitcher Eric Stults moving to the bullpen. Perez was rocked in his major-league debut, giving up four earned runs on two hits and two walks while recording just one out and serving up a home run in a relief appearance on May 8. He fared much better his next time out, giving up one hit and two walks in two scoreless innings while striking out two in two innings on Tuesday. Perez went 2-0 with a 1.33 ERA and 21:9 K:BB ratio in 27 innings across five Triple-A starts before being called up this month. "[Perez] is a guy who throws strikes and he has a good mixture of pitches," manager Fredi Gonzalez said, per MLB.com. "He's a young guy that could help us in the rotation in the future. So we'll give him an opportunity to start." Stults has lost each of his three starts in May, posting a 7.00 ERA and 12:2 K:BB ratio in 18 innings this month. He's 1-4 with a 5.36 ERA and 25:8 K:BB ratio in 40 1/3 innings.

by Jason Butt | CBSSports.com

Braves P Eric Stults struggles in loss to Reds

Braves pitcher Eric Stults was on the losing side of yet another game, as Atlanta fell 5-1 to the Reds on Wednesday. Stults went five innings and allowed five earned runs on six hits. He struck out three batters, walked one and allowed six hits. He now has an ERA of 5.36 for the season. He's posted a 7.00 ERA in his last three starts. "I haven't given up a lot of hits per se the last couple starts, but the ones that I have given up have been big ones," Stults said, via MLB.com. "It goes back to pitch execution." Stults has anow allowed 14 earned runs in his past three games.

by Jason Butt | CBSSports.com

Braves P Eric Stults surrenders three runs in loss

Braves pitcher Eric Stults gave up three earned runs in Friday night's 9-2 loss to division-rival Nationals. Stults went six innings and gave up seven hits. But he did strike out seven batters. In his past two games, Stults has given up a total of nine earned runs and four home runs. Against Washington, Stults gave up two home runs — one each to Bryce Harper and Jayson Werth. Stults, however, wasn't responsible for the lopsided loss. Williams Perez and Trevor Cahill gave up a combined five runs in the eighth inning. Harper hit his second homer of the game, a three-run shot, off of Perez. Danny Espinosa went yard on Hill. Making his MLB debut Friday night, Perez now has a 108.00 ERA. As for Stults, he falls to 1-3 with a 4.84 ERA. His next start is projected for May 13 against the Reds.

by Shawn Krest | CBSSports.com

Braves' Eric Stults rocked in loss

Braves starter Eric Stults gave up six runs on 11 hits in a loss to Cincinnati on Saturday. Stults pitched seven innings and saw his ERA swell to 4.91, as he fell to 1-2. He walked one, struck out two and gave up a pair of home runs. Stults threw 102 pitches, 66 for strikes. "When you execute a pitch and you don't get the result that you think you should get, then obviously it's frustrating," Stults said to MLB.com. "So I definitely think it was frustrating to not get the results, but like I said, you gotta give them credit, and that's just the way it goes some days." His next start is scheduled for Friday at Washington.