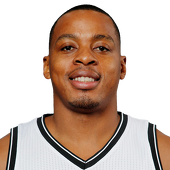 Own

3%

Start

1%

PG Rank

68
Latest News
Foye has started the last two games at shooting guard for the Nuggets with Gary Harris (concussion) sidelined. Over those contests, he's averaging five points, four rebounds, two assists, and one three-pointer in 30.5 minutes. His minutes count was weighted down by seeing only 24 minutes during Monday's blowout loss to the Bucks, but with limited depth in the backcourt and Jameer Nelson struggling with his shot of late, Foye should continue to see heavy playing time so long as Harris remains out. While he likely isn't capable of producing much more than he's already offered in the rebound or assist columns, Foye is perhaps the Nuggets' top three-point threat from the backcourt, so he should continue to receive the green light to fire away. He's already attempted seven three-pointers in his two starts, and if he can get hot on a given night, a high scoring night is very possible for the veteran. Given his cheap price, Foye might be worth targeting in daily formats is Harris is ruled out for Wednesday's tilt with the Bulls.

Foye will come off the bench like he regularly does in Friday's game against the Rockets, Jonathan Feigen of the Houston Chronicle reports. It was initially reported that Foye would get a promotion into the starting lineup for Friday's game, but the Nuggets made a late change and went with J.J. Hickson in the starting unit instead.

Foye will start Friday versus Houston, Harrison Wind of BSNDenver.com reports. This is a surprise start for Foye, who will start at shooting guard. The Nuggets chose to go small with Danilo Gallinari at power forward and Kenneth Faried at center.

Foye played 20 minutes and scored 13 points (4-6 FG, 3-4 3Pt, 2-2 FT) -- both of which were season highs -- in Monday's win over the Trail Blazers. With Jameer Nelson (lower back) held out of the contest, Foye took on more ball-handling responsibilities that usual with the second unit. It allowed Foye to act as more of a facilitator on the night, as the three assists he finished with were also a season-best mark. With Emmanuel Mudiay and Gary Harris entrenched as starters at both guard spots, Foye's role isn't expected to grow much beyond its current level, but he could continue to notice a small uptick in minutes off the bench if Nelson remains unavailable for an extended stretch.

Foye (hamstring) will be available for Wednesday's season opener against the Rockets, Chris Dempsey of the Denver Post reports. Foye resumed practicing Saturday and hasn't experienced any setbacks with his hamstring, so he'll likely be running at full speed for the start of the regular season. The hamstring issue may have cost Foye any chance he had at beating out Gary Harris for a starting job at shooting guard, but coach Mike Malone should still turn to the veteran when the team is need of three-point shooting off the bench.
Recent Tweets
#Nuggets will start: Mudiay, Foye, Gallo, Faried, Jokic

Tonight's starters: Mudiay Foye Gallinari Faried Jokić Let's get it going, #Nuggets!

DA and Foye give us a 7-0 lead on the first three possessions! Nice way to begin the first game of a five-game road trip. #Nuggets