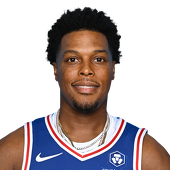 Own

100%

Start

93%

PG Rank

6
Player News
Lowry scored 25 points (9-14 FG, 5-5 FT, 2-5 FT) to go along with seven assists, three rebounds and two steals in 38 minutes during Monday's win over the Pistons. The All-Star came through with a typical all-around effort Monday, scoring at least 25 points for the third consecutive game and securing multiple steals for the seventh straight. Lowry struggled in back-to-back outings last week after struggling with a minor wrist ailment, but he has since returned to form and appears to be over the issue. Lowry's assists are down just a bit this season, but his career-best 21.1 points per game have vaulted him toward the upper echelon of fantasy point guards.

Lowry supplied 30 points (10-19 FG, 7-10 3Pt, 3-5 FT), eight assists, six rebounds, two steals and two blocks over 40 minutes in Thursday's 110-103 victory over the Trail Blazers. The veteran point guard did a little bit of everything Thursday, including turning the ball over a game-high seven times. However, Lowry more than made up for the miscues with his best scoring output since Dec. 5 against the Warriors, and by equaling a season best with seven three-pointers. Lowry has now drained 12 treys over his last two contests, and is already averaging 22.0 points, 4.7 assists and 3.7 rebounds in February. After starting the month off sluggishly on Monday against the Nuggets with a 10-point, two-rebound, two-assist output, the 10-year veteran his averaging 28.0 points, 6.0 assists and 4.5 rebounds over his last pair of outings.

Lowry totaled 26 points (8-15 FG, 5-10 3Pt, 5-5 FT), four assists, three rebounds, and two steals in 42 minutes during the Raptors' 104-97 win over the Suns on Tuesday. Lowry had gone 7-of-27 from the field in the previous two games, but bounced back nicely to avoid a second loss in as many nights. Lowry averaged 21.7 points, 6.7 assists, 5.5 rebounds, 2.8 threes, 2.4 steals, and 0.4 blocks in the month of January, and the Raptors' All-Star starter continues to have an extraordinary season with the East's second-seeded squad.

Lowry scored 18 points (4-15 FG, 1-5 3Pt, 9-12 FT) to go along with eight rebounds and three steals in a win against the Pistons. Lowry got off to a rough start on Saturday but he was able to turn it around towards the end of the game. The most glaring note about the stat sheet is the fact that Lowry didn't have an assist in this game. That hadn't happened yet this year, but Lowry did have only one assist in a game Nov.4 at Oklahoma City. Lowry's 6.5 assists indicate that this shouldn't be a continuing problem going forward.

Lowry (wrist) lit up the Knicks for 26 points (8-16 FG, 3-5 3Pt, 7-8 FT), 10 assists, six rebounds, and three steals over 41 minutes in Thursday's 103-93 victory. Lowry entered the evening as questionable to play after sprained the wrist on his non-shooting hand, but the Raptors gave him the green light to suit up prior to pregame warmups and received an outstanding performance from their floor general. The injury didn't appear to present any problems at all for Lowry, who shot 50 percent or better from the field for the third straight game and recorded his highest assist total since Jan. 4. Fantasy owners and DFS players can rest easy knowing that Lowry will continue to make for a sound option on a regular basis.
Recent Tweets
The Raptors beat the Pistons 103-89, as Kyle Lowry and the bench went supernova (again). https://t.co/8i2ejxZPcg https://t.co/DGUtYObRoI

Two times for smiley boy Cory Joseph. 15 pts on 7-9 shooting, stifling defense, paired well with Lowry. +24 in 24 minutes. Beast.

One time for Kyle Lowry. He's our superstar. 25-3-7-2 doesn't do him justice. He carried the team in the fourth quarter to secure the win.