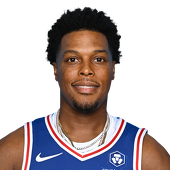 Own

100%

Start

97%

PG Rank

7
Latest News
Lowry recorded 27 points (11-17 FG, 2-6 3Pt, 3-5 FT), three rebounds, six assists, four steals, and one block in 38 minutes during the Raptors' 103-99 win versus the Cavaliers on Wednesday. Lowry has been excellent early on this season, and this was arguably his best showing of the year, as he committed zero turnovers while leading the Raptors to a win over the Cavaliers. So long as he remains healthy, expect Lowry to continue contributing plenty of counting stats, as he is the motor that makes the team run on offense.

Lowry scored 13 points (2-11 FG, 1-4 3Pt, 8-8 FT) with 10 assists, three rebounds and three steals in 38 minutes during Sunday's win over the Clippers. Despite his shooting woes, Lowry was able to keep the Raptors' offense flowing and he picked up his second double-double of the season. His defensive efforts helped hold Chris Paul to just 13 points on the afternoon. Lowry's streak of consecutive games with 20 or more points ends at seven, however.

Lowry scored 25 points (7-16 FG, 7-11 3Pt, 4-4 FT) with five rebounds, five assists and three steals in 36 minutes during Friday's win over the Lakers. The Raptors' point guard took it upon himself to end the team's three-game losing streak, tying his career high with seven threes. Lowry's now scored 20 or more points in seven straight games, and recorded at least one three and one steal in all 12 November games.

Lowry stuffed the stat sheet in Tuesday's loss to the Warriors, posting 28 points (7-15 FG, 2-7 3Pt, 12-12 FT), six rebounds, three assists, two steals, and one block before fouling out in 39 minutes of action. Lowry's enjoying a strong season, and a notable improvement in his fantasy line is his contribution in free-throws. He's hitting 87 percent for the season -- 8 percent higher than his career average -- and he's also attempting 2.4 more free-throws per game. His ability to contribute in multiple categories makes him an excellent option in fantasy, and he doesn't appear to be slowing down anytime soon.

Lowry scored 22 points (8-19 FG, 6-12 3Pt) with seven assists, four steals, two rebounds and a block in 39 minutes during Sunday's loss to the Kings. He's on an impressive hot streak, averaging 22.0 points, 7.3 assists, 4.3 boards, 3.5 threes and 3.0 steals over the last four games, but Lowry may be falling in love a little too much with his outside shot as Sunday's game was the first time this season he hasn't made it to the free throw line. He's be hard-pressed to keep his streak alive, though, as the Raptors continue their west coast swing Tuesday against the Warriors.
Recent Tweets
Lowry downplayed tomorrow's rematch in Washington, said its no big deal. "Its not a rivalry, its just a team that swept us in the playoffs"

Kyle Lowry's introspection and Drake Night are your highlights for This Week In Social. https://t.co/PpLFbAoXkt https://t.co/a0pdfvXKQm

Assorted Raptors stuff including Lowry's statistical case for player of he month: https://t.co/w1Q3oc24kF