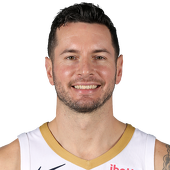 Own

61%

Start

25%

SG Rank

70
Latest News
Redick scored 17 points (5-13 FG, 3-6 3Pt, 4-5 FT) with four rebounds in 29 minutes during Sunday's loss to the Raptors. He was the only Clipper to have much success against the Toronto defense, as Blake Griffin got held to nine points and no one off the bench was able to score more than eight. After a quiet game Friday in his return from back spasms, Redick appears to be back in form from beyond the arc.

Redick (back) returned to the court Friday and posted seven points (3-12 FG, 1-5 3Pt, 0-1 FT), two assists, a rebound and two steals over 26 minutes in a 102-91 loss to the Blazers. Redick's shot was apparently a bit rusty after his three-game absence, as he was only able to drain 25 percent of the 12 buckets he attempted. If past performance is any indication, Redick should soon ascend back to his 13.9 points-per-game scoring average. Although he typically doesn't offer much in the other categories of the stat sheet, Redick's ability to heat up from the field occasionally make him a serviceable starter in season-long formats, as well as a cost-effective alternative in daily leagues.

Redick (back) will return to action Friday versus Portland, Erik Gundersen of the The Columbian's Blazers Blog reports. Redick has missed the last three games with a back injury, but is set to return Friday versus Portland. It remains to be seen if he will get his normal workload or be eased back into action, but with Paul Pierce out, there should be minutes available. Redick is averaging 14.8 points and 2.0 threes in 28 minutes per game this season.

Redick (back) is listed as questionable for Friday's matchup with the Trail Blazers, Dan Woike of the Orange County Register reports. Redick was forced to miss Thursday's game due to lingering back spasms, but looks to have at least a chance of returning to the lineup Friday. If Redick can't play, look for Jamal Crawford to remain in the starting lineup, while Austin Rivers would see extended minutes off the bench again as well. If he does return, Redick should post numbers near his season averages of 14.8 points, 0.9 rebounds and 1.6 assists per game as long as he isn't on any sort of minutes restrictions.

Redick (back) is likely out Thursday versus Golden State, Rusty Simmons of The San Francisco Chronicle reports. Head coach Doc Rivers said that Redick will most likely not play tonight. Based on that information, barring a significant change in health, Redick will likely be out Thursday. Plan your lineups accordingly.
Recent Tweets
J.J. Redick on degenerative disc: "It's just varying degrees of how well you maintain it, but I see no reason why I won't be able to play."

J.J. Redick said he's been on a maintenance plan since the degenerative disc was diagnosed at the rookie combine.

J.J. Redick said the back spasms that have sidelined him the last few years result from a degenerative disc he's had since he was 12 or 13.