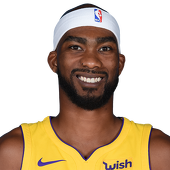 Own

5%

Start

2%

SF Rank

NR
Latest News
Brewer scored 11 points (4-14 FG, 1-7 3Pt, 2-3 FT) and added three rebounds, three steals, and two assists over 24 minutes in Monday's loss to the Celtics. Trevor Ariza, James Harden, and Corey Brewer each attempted at least seven threes as the Rockets tried to shoot themselves back in the game in the second half, but Brewer really didn't do his part. That's been a common theme this season for the reserve swingman, who has hit on just three of his 23 attempts (13 percent) from long range.

Brewer (thigh) played 17 minutes in Friday's win over the Kings, finishing with four points (1-1 FG, 2-2 FT), one assist, one rebound, and one steal. Brewer was never at serious risk of missing Friday's game, as the Rockets listed him as probable coming into the contest due to a thigh bruise. The veteran forward is averaging 7.3 points, 3.3 rebounds, 2.3 assists, and 1.5 steals over 25.7 minutes per contest.

Brewer (thigh) is probable for Friday's game against the Kings, Calvin Watkins of ESPN reports. Brewer is dealing with a left thigh contusion, but will most likely play as the Rockets are short on bodies as Terrence Jones and Patrick Beverley are out against the Kings. Should Brewer end up missing the game, Sam Dekker, Trevor Ariza, and Clint Capela will look to fill any minutes lost.

Brewer (undisclosed) was able to practice Thursday, Jonathan Feigen of the Houston Chronicle reports. Brewer has been held off the court over the past few days with an undisclosed injury. His ability to make a return Thursday suggests that he's in contention for Friday's preseason finale against the Spurs, and certainly for the regular season opener Wednesday against Denver.

Rockets forward Corey Brewer (undisclosed) isn't playing in Monday's preseason game against the Pelicans. Though Brewer was able to take part in Monday's morning shootaround, coach Kevin McHale elected to keep him out of a second straight preseason game. The Rockets haven't passed along word regarding the nature of Brewer's injury -- if there even is one -- so for the moment, it doesn't appear he's at risk of missing the team's regular-season opener.
Recent Tweets
OK. How about Corey Brewer: "If you can't put the ball in the hole, it's tough to win games." Seems about right. https://t.co/0Vvzy5ZitZ

Back-to-back 3's for Terry & Brewer. Rockets cut the lead to 7 with 1:27 left.

Corey Brewer hits a 3 and Rockets down, seven with 1:27 left. Fans, that are still here, have faith.