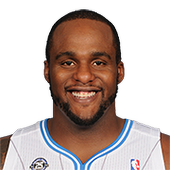 Own

0%

Start

0%

PF Rank

NR
Latest News
Davis's agent said Tuesday that the forward, who is recovering from left ankle surgery, is expected to resume basketball activities later in November, Marc J. Spears of Yahoo! Sports reports. Once he begins training on the court again, Davis will likely require several weeks of conditioning work before he receives any serious tryouts with NBA teams. Davis appeared in 74 games with the Clippers last season, averaging four points and 2.3 rebounds over 12.2 minutes per contest.

Free agent Glen Davis will undergo surgery on his left ankle to repair torn ligaments, a cyst and bone spurs on Wednesday, according to Yahoo Sports. Davis will miss at least 8-12 weeks before he can return to basketball related activities. Davis averaged four points per game in 74 games for the Clippers last season.

Clippers president and coach Doc Rivers has reached out to the representatives of power forward Glen Davis, whom they would like to retain, a source has told Yahoo Sports. The 29-year-old Davis played just 904 minutes last season, the lowest total of his career. He averaged a career-low 4.0 points per game, but shot 45.9 percent from the field, his finest accuracy since his rookie season.

Clippers forward Glen Davis said the ankle injury that bothered in Game 5 is no longer affecting him, reports the Los Angeles Times. Davis suffered an ankle sprain during the opening-round series against the Spurs. Davis has scored 12 points during the first five games of the playoff series against the Rockets. The Clippers are 8 1/2-point favorites over the Rockets in Game 6 on Thursday.

Clippers power forward Glen Davis was fined $5,000 for flopping in the first quarter of Game 3 against Houston, the league announced. Davis went down after being pushed by Dwight Howard.
Last 7 Games
| DATE | Opp | Result | Min | PTS | TRB | AST | BK | ST | TO | FPTS |
| --- | --- | --- | --- | --- | --- | --- | --- | --- | --- | --- |
Career Stats
| Season | G | FG | FGP | 3PT | 3PTP | FT | FTP | PTS | PPG | FPTS |
| --- | --- | --- | --- | --- | --- | --- | --- | --- | --- | --- |
| 2015 | 0 | 0 | 0 | 0 | 0 | 0 | 0 | 0 | 0 | 0 |
| 2014 | 74 | 117 | 45.9 | 0 | 0 | 60 | 63.2 | 294 | 3.97 | 7.6 |
| 2013 | 68 | 271 | 45.7 | 4 | 36.4 | 95 | 69.3 | 641 | 9.43 | 17 |
| 2012 | 34 | 214 | 44.8 | 0 | 0.0 | 84 | 71.8 | 512 | 15.06 | 26 |
| 2011 | 61 | 225 | 42.1 | 2 | 14.3 | 114 | 68.3 | 566 | 9.28 | 16 |
| 2010 | 78 | 359 | 44.8 | 2 | 13.3 | 195 | 73.6 | 915 | 11.73 | 19.8 |
| 2009 | 54 | 122 | 43.7 | 0 | 0.0 | 96 | 69.6 | 340 | 6.30 | 11 |
| 2008 | 76 | 199 | 44.2 | 2 | 40.0 | 130 | 73.0 | 530 | 6.97 | 12.7 |
| 2007 | 69 | 107 | 48.4 | 0 | 0.0 | 99 | 66.0 | 313 | 4.54 | 8.1 |
| 3 Year Avg | 59 | 201 | 45.5 | 1 | 16.7 | 80 | 69.0 | 482 | 8.17 | 14.7 |
| Career | 514 | 1614 | 44.7 | 10 | 18.2 | 873 | 70.0 | 4111 | 8.00 | |
Depth Chart
| | PF |
| --- | --- |
| | |