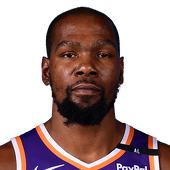 Own

100%

Start

96%

SF Rank

NR
Player News
Durant contributed a game-high 40 points (12-25 FG, 3-9 3Pt, 13-13 FT), 14 rebounds, five assists, two blocks and a steal over 40 minutes in Saturday's 116-108 loss to the Warriors. Unsurprisingly, Durant did more than his share in keeping the Thunder within striking distance of the reigning NBA champs until the final seconds. The only blemish on his spectacular night was his struggles from beyond the arc, including two late misses that failed to close a thin Warriors lead. Despite the disappointing outcome Saturday, Durant now has four double-doubles in the last seven games, and is already averaging 35.0 points, 9.3 rebounds, 4.7 assists, 1.7 blocks and 1.0 steals over 38.0 minutes in three February contests.

Durant contributed 37 points (12-25 FG, 6-12 3Pt, 7-8 FT), five rebounds, five assists, three blocks, and two steals in 37 minutes during the Thunder's 117-114 win against the Magic on Wednesday. Durant has averaged 33.8 points on 51 percent shooting, 9.8 rebounds, 4.4 assists, one block, and 0.8 steals in 39 minutes per appearance over the last five games. He has definitely been on a roll lately, which is a very good thing given that the Warriors are on tap for Saturday.

Durant led Oklahoma City with 28 points (9-18 FG, 8-9 FT, 2-7 3Pt) in addition to nine rebounds and four assists in 36 minutes during Monday's win over the Wizards. The newly-crowned Western Conference Player of the Month played well yet again, although he has been performing at such a high level lately that some of Monday's numbers look rather pedestrian compared to his recent production. Durant uncharacteristically failed to record any defensive stats Monday, but his typical all-around production makes him a worthy fantasy play every time he takes the floor.

Durant had 33 points (11-18 FG, 2-5 3Pt, 9-9 FT), 12 rebounds, three assists, one steal, and one block in 40 minutes during the Thunder's 116-108 win over the Rockets on Friday. The last time Durant failed to score 20 points was Nov. 10. He and Russell Westbrook were locked in on Friday, and KD took over the game in the third quarter with a giant flurry of scoring. After playing three games in four days, the Thunder are off until Monday's match-up with the Wizards.

Durant recorded 44 points (12-26 FG, 4-7 3Pt, 16-18 FT), 14 rebounds, five assists, and one steal in 43 minutes during Tuesday's 128-122 overtime win against the Knicks. Durant posted a season-high in scoring, and he has now grabbed at least 10 rebounds in seven of 13 January games. KD doesn't post pretty assist-to-turnover ratios, but he is still among the elite contributors regardless of scoring format.
Recent Tweets
Kevin Durant on likely having to go through the Warriors and Spurs: https://t.co/IxrDJvIKwi

Thunder definitely had their chances to take control. Possessions weren't great, but Durant is certainly more than capable of hitting those.

Durant on coming back from 20 down to tie it up in the fourth: "That's what we're supposed to do ... No moral victories in here."