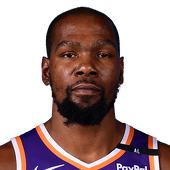 Own

100%

Start

78%

SF Rank

NR
Latest News
Durant (hamstring) returned to action Monday after a six-game absence and posted 27 points (10-13 FG, 3-6 3Pt, 4-4 FT), six rebounds, four steals, one assist, and one block in 30 minutes against the Jazz. Durant couldn't have made a better return, as he seemed to be hitting from all spots and was fairly comfortable doing so. The Thunder won a blowout game, many thanks to Durant's performance, and his owners shouldn't be too worried about his status moving forward.

Durant (hamstring) will return to action Monday in Utah, David Locke of the Utah Jazz reports. This is welcomed news for Durant owners, who's been out of action since Dec. 13 with a hamstring injury. The Thunder were being cautious with their star forward in order to avoid a nagging injury, so with Durant going Monday he'll likely play his normal workload. Before being sidelined, Durant was averaging 28.1 pints, 7.3 baords, 3.0 assists, 0.8 steals, 1.3 blocks, and 2.6 triples in 35 minutes per game.

Durant (hamstring) is expected to return this week, ESPN reports. Durant has missed the last six games with a strained left hamstring, and he's expected to return this week, though the Thunder are yet to decide exactly which game that may be. The 2013-14 NBA MVP was held out of Sunday night's win over Dallas, but he could return as early as Monday against Utah or Wednesday against Brooklyn. In Durant's absence, the Thunder have gone 3-3, with Russell Westbrook averaging 32.7 points, 9.3 assists, 7.7 rebounds and 3.2 steals per game over that span.

Durant (hamstring) has been ruled out of Sunday's matchup with the Mavericks, Anthony Slater of the Oklahoman reports. Despite having been seen doing individual drills and full-court sprints during practice, Durant will remained sidelined Sunday, as he continues to work back from a strained hamstring injury. The Thunder originally replaced Durant with Anthony Morrow in the starting line, but decided to use Dion Waiters as a starter instead during Friday's matchup with the Knicks. It's still to be determined which of those guys will get the start Sunday, but both should see increased minutes with Durant out. Durant will remain questionable for Monday's game against the Jazz.

Durant (hamstring) has been ruled out for Friday's game against the Knicks, The Oklahoman reports. Durant continues to work back from a strained hamstring suffered nine days ago against the Wizards, and he was observed going through individual drills at Thursday's practice, including full-court sprints. Originally given a timetable of 7-to-10 days, Durant could return as early as Sunday's matchup with Dallas. After that game, the Thunder face Utah on Monday and Brooklyn on Wednesday.
Recent Tweets
Kevin Durant and Russell Westbrook flip the switch against the Nets: https://t.co/cTP631KelE

Kevin Durant on Rondae Hollis-Jefferson guarding him: https://t.co/iPVOFq7uQl

Kevin Durant's line: 11/18 shooting for 30 points. 5/8 from three. @BudLight Photo of the Game. https://t.co/YrwXaYKHJ7