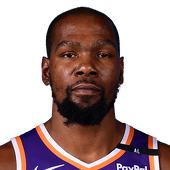 Own

100%

Start

99%

SF Rank

NR
Player News
Durant registered 23 points (10-17 FG, 3-8 3Pt) six assists, three rebounds and a steal over 30 minutes in Thursday's 121-95 victory over the Pelicans. Like fellow superstar Russell Westbrook, Durant got a bit of a break on Thursday in the blowout victory. His 30 minutes on the court were the fewest he'd played since Jan. 15 against the Timberwolves, as was his point total. The All-Star nevertheless drained multiple threes for the sixth straight contest, and is already averaging an impressive 34.3 points in five February games.

Durant dropped 32 points (11-21 FG, 5-8 3Pt, 5-5 FT), six rebounds, three assists, two blocks, and one steal in 38 minutes during the Thunder's 122-106 victory over the Suns on Monday. It was just another day at the office for Durant, whose Thunder have off until Thursday's matchup with a Pelicans team that played Monday and also has another game on Tuesday. Given that the Pelicans aren't very strong defensively, especially along the wing, K.D. makes for a high-quality play in his last contest before the All-Star break.

Durant contributed a game-high 40 points (12-25 FG, 3-9 3Pt, 13-13 FT), 14 rebounds, five assists, two blocks and a steal over 40 minutes in Saturday's 116-108 loss to the Warriors. Unsurprisingly, Durant did more than his share in keeping the Thunder within striking distance of the reigning NBA champs until the final seconds. The only blemish on his spectacular night was his struggles from beyond the arc, including two late misses that failed to close a thin Warriors lead. Despite the disappointing outcome Saturday, Durant now has four double-doubles in the last seven games, and is already averaging 35.0 points, 9.3 rebounds, 4.7 assists, 1.7 blocks and 1.0 steals over 38.0 minutes in three February contests.

Durant contributed 37 points (12-25 FG, 6-12 3Pt, 7-8 FT), five rebounds, five assists, three blocks, and two steals in 37 minutes during the Thunder's 117-114 win against the Magic on Wednesday. Durant has averaged 33.8 points on 51 percent shooting, 9.8 rebounds, 4.4 assists, one block, and 0.8 steals in 39 minutes per appearance over the last five games. He has definitely been on a roll lately, which is a very good thing given that the Warriors are on tap for Saturday.

Durant led Oklahoma City with 28 points (9-18 FG, 8-9 FT, 2-7 3Pt) in addition to nine rebounds and four assists in 36 minutes during Monday's win over the Wizards. The newly-crowned Western Conference Player of the Month played well yet again, although he has been performing at such a high level lately that some of Monday's numbers look rather pedestrian compared to his recent production. Durant uncharacteristically failed to record any defensive stats Monday, but his typical all-around production makes him a worthy fantasy play every time he takes the floor.
Recent Tweets
📹 wrap-up of #AllStarTO Friday. #RussellWestbrook https://t.co/NLjZVUC2C0 #KevinDurant https://t.co/v2F1qOtNIp

#NBAAllStarTO photo galleries. #KevinDurant https://t.co/hCVaaelsyV #RussellWestbrook https://t.co/3Kz6rFkrLv

WATCH: #NBAAllStarTO teammates #KevinDurant and #RussellWestbrook might be doing some more of this on Sunday! https://t.co/4fvSKbag7w