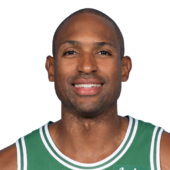 Own

100%

Start

94%

C Rank

10
Player News
Horford will replace the injured Chris Bosh (calf) on the Eastern Conference roster for Sunday's All-Star Game in Toronto, Sports Illustrated reports. Bosh is the second Eastern Conference player to drop out due to injury after Chicago's Jimmy Butler (knee) was replaced earlier in the week by teammate Pau Gasol. It will be the second consecutive All-Star bid for Horford, whose numbers are very similar to those he put up in 2014-15. The 29-year-old enters the weekend averaging 15.3 points, 6.9 rebounds, 3.1 assists and 1.5 blocks while shooting 50.7 percent from the field for an Atlanta team that sits in fourth place in the East, 8.5 games back of first-place Cleveland.

Horford had 27 points (12-18 FG, 1-4 3Pt, 2-2 FT), six rebounds, three assists, and two blocks in 39 minutes during the Hawks' 117-110 overtime loss versus the Magic on Monday. Horford is easy to overlook in fantasy since he doesn't put up monstrous numbers most nights, but he is still averaging right around 15 points, seven boards, three assists, 1.5 blocks, one three, and one steal in 32 minutes per appearance this season. The Hawks are back in action on Wednesday versus a Bulls team that could still be dealing with injuries to key players, and Horford and company could really use a win heading into the All-Star break.

Horford accumulated 11 points (5-15 FG, 1-4 3Pt), six assists, six rebounds, and two blocks across 35 minutes in Sunday's 96-94 loss to the Magic. Though he shot the ball poorly and barely cleared 10 points for the third time in four games, Horford's increased willingness to distribute the ball has been a pleasant development. He's recorded at least four assists in his last three contests, while providing his usual production as a rebounder and shot blocker.

Horford had 21 points (8-16 FG, 1-4 3Pt, 4-4 FT), seven rebounds, six assists, and one steal in 34 minutes during the Hawks' 102-96 win over the Pacers on Friday. Horford had gone 13 straight games without reaching the 20-point mark. However, he has still been providing solid all-around numbers of late, and Atlanta earned its third straight victory. He was quiet in the first half, but threw down a vicious dunk in the third quarter--followed by another slam on the play immediately thereafter--and Horford is one of the top players at his position in category leagues.

Horford scored nine points (4-12 FG, 0-3 3Pt, 1-2 FT) while adding a season-high 16 rebounds, five assists, two blocks and a steal in 39 minutes during Saturday's loss to the Suns. He had some trouble on the offensive end with the length in the Phoenix frontcourt, but Horford still had a productive game despite his shooting woes. He's also picked up the pace a little defensively, swatting away multiple shots in seven of his last 10 games while averaging 1.8 blocks a game over that stretch.
Recent Tweets
Do you have 66 seconds? If so, watch All-Star @Al_Horford's best plays from the first half of the season: https://t.co/4w7baGtusu

#PaulMillsap and #AlHorford at East practice today! #NBAAllStarTO https://t.co/x0Pbgagknc

Fantasy Basketball: Week 18 Waiver Wire and Streaming Options! https://t.co/fkveaBX3so https://t.co/uBFcdGTNqf