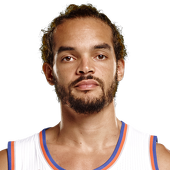 Own

75%

Start

21%

C Rank

30
Latest News
Noah scored eight points (4-7 FG, 0-1 FT) and collected six rebounds, four assists, and a steal over 21 minutes in Monday's win over the Pacers. Although it was teased last week that Noah would replace Nikola Mirotic in the starting lineup for the Nov. 9 tilt with the 76ers, a late-arriving knee injury prevented Noah from taking the court. He's since returned from the ailment to suit up for the Bulls' last two games, but Noah remains utilized off the bench. However, it's worth noting that Noah has seen equal or greater minutes than Mirotic in the last four games both players have been available, illustrating that Noah may have more trust from coach Fred Hoiberg at this point. Noah doesn't offer nearly as much offensive upside as Mirotic and is averaging just 3.1 points for the season, but he's been an active presence in front of the rim, collecting 8.2 boards and 0.7 blocks per game. If his minutes end up expanding into the 25-to-30 range in the games to come, Noah could regularly begin to notch double-digit rebounds.

Noah (knee) recorded three points (1-4 FG, 1-2 FT), 18 rebounds, six assists, one steal, and one block in 23 minutes during the Bulls' 102-97 win versus the Hornets on Friday. Noah exited Monday's win versus the 76ers due to knee soreness, but was able to take the floor on Friday versus the Hornets after practicing fully on Thursday. Noah has been the odd man out for much of the season, with Pau Gasol and Nikola Mirotic earning the majority of minutes down low thus far. However, Noah's ability to defend will likely continue to earn him ample minutes so long as his knee is indeed alright.

Noah (knee) will be available off the bench Friday, Nick Friedell of ESPN Chicago reports. Noah missed Monday's game against the Sixers, but after two days of rest and a full practice Thursday, the big man will return to active status Friday. Noah will still come off the bench behind Pau Gasol and Nikola Mirotic, and it's possible the Bulls will monitor his workload so as not to aggravate the knee issue.

Noah (knee) practiced in full Thursday, KC Johnson of the Chicago Tribune reports. Noah did not play Monday against the Sixers due to soreness in his left knee, but after putting in a full practice Thursday, the expectation is that he'll be ready for Friday's matchup with Charlotte. Hoiberg indicated that he'll likely stick with his same starters, based on matchups, so that means Noah will continue to come off the bench behind Nikola Mirotic.

Noah (knee) is expected to take part in practice Thursday before his status for Friday's game against Charlotte is determined, KC Johnson of the Chicago Tribune reports. Noah did not play Monday due to knee soreness, but he expressed optimism after the game, telling reporters he'll "be back in no time." Even if the issue is not serious, Noah could still miss another game or two to rest, though a decision won't come until he's able to be evaluated Thursday. If Noah is ultimately held out, Taj Gibson and Bobby Portis could pick up extra minutes off the bench.
Recent Tweets
Noah back in. Right move. Playing with Gasol.

Noah gets standing O as he's pulled for Gasol. Gotta think he's coming back in, right?

Joakim Noah is the first Bull with 8 points, 10 rebounds and 7 assists off the bench since @Stacey21King in 1993 (h/t @bball_ref).