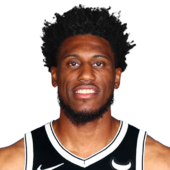 Own

99%

Start

90%

SF Rank

NR
Player News
Young scored 20 points (9-15 FG, 2-2 FT) to go with seven rebounds, three blocks, two assists, and a steal over 37 minutes in a 105-104 victory over the Nuggets on Monday. Young has continued to anchor Brooklyn's offensive production, now averaging 18 points over his last four games. The 27-year-old Young, who has logged at least 34 minutes of court time in seven of his last eight games, has been the face of consistency for a team that has otherwise come up short of all expectations. After a day of rest, Young will look to continue his scoring ways against the Grizzlies on Wednesday.

Young compiled 22 points (10-15 FG, 2-4 FT), 10 rebounds, three assists, one steal, and one block across 39 minutes in Saturday's 103-98 loss to the 76ers. Young tied his season high with five turnovers in the outing, but his deft shooting touch and strong contributions on the defensive end helped keep the Nets afloat on a night they received very little assistance from the other four starters. The veteran forward has emerged as one of the focal points of the offense under interim coach Tony Brown, as he's received at least 35 minutes in each of the past three games.

Young scored 14 points (6-10 FG, 2-2 FT) to go along with 14 rebounds, seven assists and two steals in 39 minutes on Friday in a win against the Kings. Young was phenomenal on Friday, getting it done in every facet of the game. This performance shows just how successful the Nets can be when all of their key pieces are playing to the best of their abilities, but it was against the defensively-inept Kings and we shouldn't expect too many like this going forward. Young will continue to have personal success and should be deployed in every fantasy format. On Saturday, the Nets face the Sixers and Young is considered a strong play in that one.

Young scored 16 points (6-12 FG, 4-6 FT) to go along with 14 rebounds and an assist in 35 minutes on Wednesday in a loss to the Pacers. Young added to his impressive 2015-16 campaign with yet another double-double on Wednesday against the Pacers. Being matched up against rookie phenom Myles Turner, Young went under the radar and posted a performance that shows his overall value to the Nets. Young will continue to be the second option on this struggling team, but he still holds an immense value in every fantasy format. In season-long leagues, it would be great to have him, but in the DFS game, he remains more of a matchup-based play.

Young scored 11 points (4-13 FG, 3-4 FT) while adding 10 rebounds and five steals in 41 minutes during Friday's loss to the Mavericks. The steals matched his season high and the double-double was his 21st of the season, tying his previous career high set (in 76 games) with the Sixers in '12-'13. Young is having a big year for the talent-starved Nets, and barring a trade he should continue to pile up production in the second half.
Recent Tweets
Your #Nets starters vs. Memphis: Sloan, Ellington, Johnson, Young, Lopez.

Raptors interested in Thaddeus Young? https://t.co/Lsm8asL8L2 https://t.co/VXOQRcoPSL

#Nets 55 #Nuggets 49 at the half. Brown 14 points, Young 12 pounds, McCullough 2 points in 6 minutes.