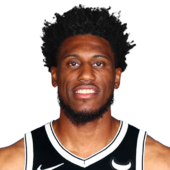 Own

99%

Start

82%

SF Rank

NR
Latest News
Young scored 19 points (9-12 FG, 1-2 FT) while adding 10 rebounds, three assists, a steal and a block in 31 minutes during Sunday's win over the Pistons. That's now six double-doubles in eight games for Young, and he missed making it eight in a row by just two boards in each of the other games. The 27-year-old is thriving while playing alongside Brook Lopez in the Nets' frontcourt, but his improved rebounding has come at the expense of his modest contributions from beyond the three-point line, as he's just 1-for-10 from long range after going 90-for-292 as recently as two seasons ago.

Young scored 16 points (7-16 FG, 0-1 3Pt, 2-4 FT) while adding 12 rebounds and a steal in 36 minutes during Saturday's loss to the Cavaliers. He's been putting up some very intriguing numbers lately, averaging 18.3 points, 10.1 boards and 2.3 steals over his last seven games while collecting five double-doubles. Young's 8.6 rebounds per game so far would be a new career high by over a full rebound, but given the Nets' lack of other glass-crashing options, he might be able to maintain that pace over the rest of the season.

Young scored 14 points (7-17 FG, 0-2 FT) with 10 rebounds and two steals in 29 minutes during Friday's loss to the Celtics. It's his third double-double in his last four games and fourth of the year after recording just three all of last season. Young has also scored 13 or more points in all 10 November games, as he settles in as one of the Nets' primary scoring options.

Young recorded 27 points (11-17 FG, 0-1 3Pt, 5-6 FT), eight rebounds, one assist, and one steal in 33 minutes during the Nets' 116-111 loss versus the Hornets on Wednesday. After having x-rays taken on his non-shooting wrist following Tuesday's game versus the Hawks, Young showed no ill effects from the fall, scoring a season-high and game-high 27 points on Wednesday. Through 12 games, Young is averaging 15.8 points (54.0 FG, 12.5 3Pt, 66.7 FT), 8.0 rebounds, 1.5 assists, 1.5 steals, and 0.6 blocks in 31 minutes per game. The veteran forward is likely to continue seeing 30 or more minutes a night while producing solid scoring and rebounding numbers, as the Nets just don't have the depth of talent to challenge Young for playing time.

Young underwent an X-ray on his right wrist after falling on it in Tuesday's game against the Hawks, but everything checked out and he says he will be ready for Wednesday's game, ESPN's Mike Mazzeo reports. It is worth noting that his fall was serious enough that an X-ray was taken, but it sounds like he will play through any lingering discomfort Wednesday in Charlotte.
Recent Tweets
Of all the players whose draft rights are held by NBA clubs, #Nets Juan Pablo Vaulet is youngest at 19. https://t.co/yX2tDyzOfK

Thad Young: "Good defense at the end. When the bench gives us those opportunities, it's huge." #Nets https://t.co/DWvi0jrHkT

Thaddeus Young is 7-for-8 for 14 points. #Nets trail by 7.