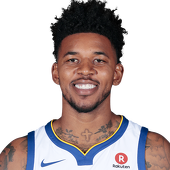 Own

14%

Start

4%

SG Rank

NR
Latest News
Young managed 11 points (4-9 FG, 1-5 3Pt, 2-2 FT) in his 25 bench minutes Monday against Phoenix. Young is starting the year out shooting the ball very well (43.5% FG, 43.4% 3Pt,) which are both above his career averages, and he's also perfect from the charity stripe through 11 games. Though he continues to shine in his bench role shooting the ball, his average is down to 10.3 points per game which is the lowest it's been in the past five seasons.

Young scored 17 points (6-13 FG, 5-9 3Pt) over a season-high 26 minutes in Tuesday's 101-88 loss to the Heat. Swaggy P saw increased minutes with Kobe Bryant sitting Tuesday and was able to tie his season high point total of 17. Bryant just needed some rest, so Young's value will likely revert back to being low moving forward.

Young amassed 17 points (5-11 FG, 3-7 3Pt, 4-4 FT), three assists, and two rebounds over 22 minutes in Friday's 132-114 loss to the Kings. Young has posted encouraging performances over the season's first two games, demonstrating that he can be a consistent scoring option off the bench. Before a fractured kneecap ended his 2014-15 campaign prematurely in late February, Young suffered through some inconsistent shooting performances while offering little else in the way of counting stats the majority of the time. Albeit in a small sample size, Young is scoring at a 53 percent clip on 10-of-19 shooting over the first pair of contests this season.

Lakers shooting guard Nick Young missed an intrasquad scrimmage Thursday after banging his knee in a recent practice, Eric Pincus of the Los Angeles Times reports. Despite his absence, the team has relayed that the guard is "fine," so there's probably no reason to worry about the injury. There's a decent chance Young will be back in action Saturday against Golden State.

After a knee injury ended his season prematurely, Lakers guard Nick Young said the knee is in the healing process, reports the team's official website. "It's going to be all right," he said. "This year has just been one of those years." Despite receiving criticism from coach Byron Scott throughout the season, Young said he has no problems with Scott, reports the Los Angeles Daily News. "If he doesn't talk to you, he doesn't care about you," Young said. "He wants me to get better." Young added that he expects to be back with the Lakers next season.
Recent Tweets
Happy Thanksgiving!! Fun w/ @LakersCommunity, @JClark5on & @NickSwagyPYoung serving LA families Thanksgiving dinner! https://t.co/JJ2uP5SANO

Nick Young: "It's hard to talk to somebody that's a 5-year champ, you don't want to step on his toes…" https://t.co/DhPGDlJgoV

Lakers have not talked to Kobe about shot. N. Young: "It's hard to talk to somebody who's a 5-year champ. You don't want to step on his toes