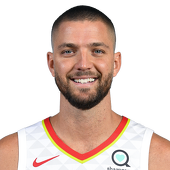 Own

92%

Start

30%

SF Rank

NR
Latest News
Parsons will sit out Wednesday's game against the Spurs to rest, Tim MacMahon of ESPN reports. Parsons still isn't ready to play in back-to-back games which explains Wednesday's absence since he logged a season-high 25 minutes Tuesday against the Grizzlies. A combination of Charlie Villanueva and rookie Justin Anderson will likely take over at small forward with Parsons expected to return in normal fashion Saturday against the Nuggets.

Parsons scored six points Tuesday in a loss to Memphis. He finished 3-of-9 from the field, including 0-of-4 from behind the arc. He added five rebounds, two assists, and a block in 25 minutes of playing time. Parsons played a season-high 25 minutes in the loss as the Mavericks slowly increase his workload. Dallas plays the second night of a back-to-back in San Antonio on Wednesday and it remains to be seen if Parsons will be available.

Parsons will likely receive a bump in minutes from 20 to 23, Dwain Price of the Fort Worth Star-Telegram reports. Parsons continues to work towards his 2014-15 averages of 15.7 points in 33.1 minutes per game as the 2015-16 season progresses. The 27-year-old's only played in two of Dallas' last four contests, but those tilts saw his two highest minute per game totals of the season with 18 and 21 minutes respectively. Parsons next opportunity to show his minutes increase will be Wednesday in Boston as he tries to round into mid-season form.

Parsons set a season-high in both minutes (21) and points (20) in Monday's 92-86 win over the 76ers. Parsons was on fire out the gate, scoring 11 points in the first quarter. He left the game briefly with a facial laceration, but was already on a minutes limit to begin with. It was against the 76ers, but the performance is still a positive as Parsons continues to work back into shape.

Parsons expects to play 20 minutes in Monday's game against the 76ers, Earl K. Sneed of Mavs.com reports. Parsons, has slowly increased his playing time in each successive game this season, starting with 12 minutes in his season debut and going up to 18 minutes in his most recent game Friday against the Lakers. After resting Saturday against the Rockets for the second game of a back-to-back, Parsons looks ready to crack 20 minutes for the first time, and should only continue to see his fantasy outlook improve as a result. Though his production has been understandably marginal while his playing time has remained restricted, Parsons hasn't reported any issues with his surgically-repaired right knee through his first six games.
Recent Tweets
"I feel bad for Tony (Romo). He's a warrior. He's one of the toughest guys out there. I feel bad." -- #Mavs F Chandler Parsons

CParsons: "My (Florida) Gator boy, Cam Newton, he's killing it, man. He's playing unbelievable. But it (hurts) to see Tony (Romo) go down."

Chandler Parsons: "This last (0-3) road trip left a sour taste in our mouth. We felt like we left a few on the table we could have gotten."