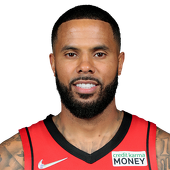 Own

6%

Start

1%

PG Rank

NR
Latest News
Augustin netted nine points (3-7 FG, 3-6 3Pt) and dished out two assists Monday in the Thunder's 111-89 in Utah. Augustin has spent the 2015-16 season as the primary backup to Russell Westbrook at the point guard spot. He's actually been given more opportunities than a lot would expect him to behind a guy like Westbrook, and has managed to score 6.3 points per game while playing 15-20 minutes most nights.

Augustin posted 12 points, five rebounds, and one steal in 22 minutes of action Monday against the Rockets. Augustin has quietly been producing solid fantasy numbers, averaging 11.5 points, 2.5 rebounds, 3.0 assists, 1.0 steals, and 1.8 threes per game. While playing behind Russell Westbrook is certainly going to limit production, Augustin's dynamic gameplay puts him on the radar in 14-man leagues or deeper.

Thunder point guard D.J. Augustin (rest) will sit out the Thunder's exhibition game Tuesday against the Jazz, Anthony Slater of the Oklahoman reports. The team is simply giving Augustin a night of rest, as they continue to prepare for their Oct. 28 regular-season opener against the Spurs.

Thunder point guard D.J. Augustin scored just two points (1-6 FG), but handed out eight dimes and grabbed a rebound in a 100-88 win over the Mavericks on Tuesday. Augustin is now just 4-for-18 in the preseason, but he's got 16 assists in the three games thus far. He's one of those players that has almost no value at this time, but will become a number one waiver priority if Russell Westbrook is to ever get injured. It will be tough for Augustin to match his 9.5 point and 4.3 assist averages from last year in this role.

With the Pistons all but eliminated from the postseason, nothing is more important at this point in their final games for coach Stan Van Gundy than the progress of guard Reggie Jackson, writes the NBA.com.The Pistons sent guards Kyle Singler and D.J. Augustin to the Thunder on Feb. 19, clearing the path for Jackson to take over the point guard role. But Jackson's performance to this point has been inconsistent."The big thing with him is his aggressiveness and pushing the ball in transition and being aggressive on his pick and rolls," Van Gundy said. "I think when he does that, he's pretty effective. When he's just sort of playing with the ball and a little more tentative, then he runs himself into problems. He over dribbles at times, gets down in traffic. When he's on the attack north-south, I think he's very, very good."Jackson may have to compete next season with Brandon Jennings, who's been out since late January with a ruptured left Achilles tendon.
Recent Tweets
Today's pregame intvw on @FoxSportsOK & Thunder Radio is w/DJ Augustin. See it now on Thunder Mobile App. https://t.co/hiMtcP3ISd

Thunder beat the Pelicans 110-103. Westbrook 43-9-8, Kanter 24 and 14 rebounds, Roberson 8 and 8 rebounds, um, Augustin 9.

DJ Augustin connects from 3, twice in quarter. Thunder ahead of Pelicans 95-84 halfway through 4th. Watch rest on Fox Sports Oklahoma.