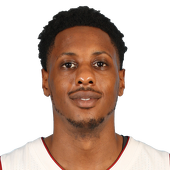 Own

26%

Start

12%

PG Rank

79
Latest News
Chalmers scored 14 points and had a season-high five steals over 21 minutes off the bench in Tuesday's 110-96 win over the Mavericks. Chalmers has been streaky off the bench since being acquired from the Heat seven games ago as his shooting continues to be inconsistent. He's getting more playing time with Memphis, but it's still hard to justify adding Chalmers in anything other than deep leagues.

Chalmers exploded for 29 points (6-13 FG, 4-7 3Pt, 13-15 FT), two rebounds, one assist, and one steal in 23 minutes of action Monday against the Thunder. Chalmers has now played three games on his new team, and he's been impressing more and more each night. He's averaging 18.7 points, 2.3 assists, 1.7 steals, and 1.7 treys so far. While he remains a backup in the rotation, he's definitely bringing in a new dimension to the Grizzlies bench -- after starting the season 2-6, they've now won three straight. Chalmers seems to be poised for a 20-minute role off the bench, but given the lack of firepower of the Grizzlies' offense, there's a good chance Chalmers will be worth a roster spot in standard leagues.

Chalmers will not play Wednesday against the Warriors, Peter Fleischer of FOX 13 in Memphis reports. Chalmers was traded from the Heat to the Grizzlies on Tuesday, and he'll sit out Wednesday as he adjusts to his new situation. The point guard is expected to debut Friday against the Trail Blazers, and coach Dave Joerger indicated that he sees Chalmers as a key part of the team's second unit.

Heat guard Mario Chalmers was traded to the Grizzlies on Tuesday, according to multiple reports. The Heat also traded James Ennis and will receive Jarnell Stokes and Beno Udrih in the deal. Chalmers should be an interesting fit in Memphis, as he is used to a fast-paced Heat system that is almost a polar opposite of the plodding Grizzlies. With Mike Conley firmly entrenched as the Grizzlies starter, Chalmers will most likely be the primary backup point guard off the bench.

Chalmers recorded nine points (3-8 FG, 0-1 3Pt, 3-3 FT), seven rebounds, six assists, a blocked shot, and a steal over 25 minutes in Sunday's win over the Raptors. Chalmers missed a game last week due to a sore ankle, but he was able to heal up quickly and came through with his best performance of the season Sunday. Even so, Chalmers has failed to crack 10 points in the six games he's played this season, and likely won't see enough minutes behind Goran Dragic to be a true difference maker for fantasy owners.
Recent Tweets
#GrizzSeasonOfGiving @mchalmers15 @CourtneyLee2211 & @mrvincecarter15 help assemble bikes https://t.co/Km38MwnJNE

Probably Mario Chalmers' worst game since joining the Grizzlies.

Chalmers, who entered the game as one of the best FT shooters in the league, has missed 3 of 4 from line in 1Q