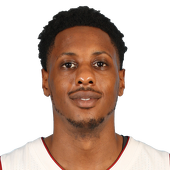 Own

35%

Start

9%

PG Rank

83
Player News
Chalmers scored 19 points (6-8 FG, 2-3 3Pt, 5-6 FT) while adding five assists, three rebounds, two steals and a block in 27 minutes off the bench during Saturday's loss to the Timberwolves. After scoring just eight points combined in his previous two games, Chalmers found his rhythm again. His numbers in January have been solid, as he's averaged 13.2 points, 5.9 assists, 3.2 boards, 1.6 threes and 1.5 steals in 29.5 minutes, but with Mike Conley now back in the lineup expect Chalmers to see less court time moving forward.

Chalmers posted three points (0-1 FG, 3-4 FT), five assists, and one rebound in 21 minutes during the Grizzlies' 101-99 win over the Pelicans on Monday. Chalmers had three turnovers, and he struggled a bit in his return to an off the bench role. He provides an off-the-bounce game on a team lacking much in that area beyond starter Mike Conley, so it's possible those two could share the floor for stretches at some point. Still, Grizzlies' coach Dave Joerger did not elect to play the two together on Monday, and only receiving Conley's leftover minutes at point guard limits Chalmers' fantasy value.

Chalmers will move back to the bench for Monday's game against the Pelicans with Mike Conley (Achilles) returning from injury, Eric Hasseltine of 92.9 FM ESPN Radio reports. Chalmers enjoyed a productive run during Conley's six-game absence, posting averages of 16.7 points, seven assists, 4.5 rebounds, two three-pointers, and 1.8 steals across 37.3 minutes per contest. Though Conley figures to be eased back into action, he should reclaim his usual 30-plus minute role after getting a few games under his belt, which will likely result in a steep reduction in court time for Chalmers. Once Conley is back to full speed, Chalmers might not be worth holding outside of deeper formats.

Chalmers scored 25 points (9-15 FG, 2-6 3Pt, 5-6 FT) with three rebounds, eight assists, and four steals over 42 minutes in a 103-101 victory over the Pistons on Thursday. After momentarily fumbling the ball in the final possession of Thursday's game, Chalmers landed an off-balance leaner to secure victory for the Grizzlies. The unlikely buzzer beater capped an excellent performance from Chalmers; in Mike Conley's absence, Chalmers has averaged 17.6 points, 6.8 assists, and 2.2 steals over 39 minutes in his last five games.

Chalmers scored 10 points (3-8 FG, 1-4 3Pt, 3-4 FT) with nine assists, three rebounds, and three steals over 41 minutes in a 107-91 loss to the Rockets on Tuesday. With Mike Conley ruled out of Tuesday's match-up due to an Achilles injury, Chalmers was able to receive just his third start of the season. With seven seasons of starting experience from his time with the Heat, Chalmers has filled in admirably in Conley's absence; averaging 15.8 points, 5.5 rebounds, and 6.5 assists over 38.3 minutes in his last four games. While Chalmers has provided a welcome veteran presence since his Nov 10. acquisition from Miami, it appears he'll return to the bench once Conley returns from injury. Until then, he can be relied upon for minutes in DFS formats.
Recent Tweets
. @mchalmers15 is ready for #MEMvDAL. 7pm/ct tip. See you soon! #RioForTrio https://t.co/j4A2KWE3Oe

Here is the Chalmers moment. I swear, each time somethin like this has happened, the Grizzlies have run off on team after. Sasha is a SIMP!

Chalmers has to be smarter than that.