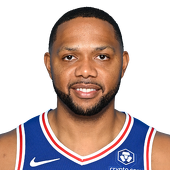 Own

97%

Start

72%

SG Rank

53
Latest News
Gordon tallied 16 points (5-12 FG, 1-5 3Pt, 5-6 FT), three rebounds and a pair of assists over 30 minutes in Friday's 111-90 loss to the Clippers. While it didn't necessarily reflect in Friday's contest, Gordon may be on the verge of increased offensive production if teammate Anthony Davis' knee contusion causes him to miss some time. Such has been the case in the past when Davis has been sidelined, and Gordon is certainly capable of a ceiling somewhere in the neighborhood of 30 points when his shot is falling. The veteran guard's increased offensive responsibility could begin as early as Saturday's road tilt versus the Jazz, if Davis is indeed unable to take the court.

Gordon scored 20 points (6-16 FG, 5-12 3Pt, 3-4 FT) with four rebounds, four assists and two steals in 39 minutes during Sunday's win over the Suns. He's cooled down after his strong run to begin the month of November, and Sunday was the first time Gordon has scored 20 or more points, or hit more than two three-pointers, in five games. He's a streaky scorer, though, and he continues to see big minutes as the starting two-guard for the Pelicans, so Sunday's performance could mark the beginning of another hot streak.

Gordon scored a game-high 30 points (11-22 FG, 4-11 3Pt, 4-5 FT) with three rebounds and a steal in 36 minutes during Friday's loss to the Raptors. With Anthony Davis (hip) sidelined, Gordon came through with his best scoring performance of the season but didn't get enough help from the rest of the Pelicans to pull off the upset in Toronto. He's now averaging 22.8 points, 4.0 threes, 2.8 boards, 2.8 assists and 1.0 steals in six November games.

Gordon posted 26 points (10-20 FG, 4-6 3Pt, 2-3 FT), three rebounds, three assists, and two steals in 32 minutes of action Wednesday against the Hawks. Gordon had a pretty stellar performance Wednesday, and he shot at a fairly high clip while doing so. He's averaging 21.4 points, 2.8 rebounds, 3.2 assists, and 1.0 steal over the last five games, so his scoring hasn't really been an issue. His lack of contribution in other categories limits his fantasy potential, but he's still a viable option in most formats.

Gordon scored 22 points (8-15 FG, 3-7 3Pt, 3-3 FT) with two rebounds, two assists, a steal and a block in 39 minutes during Friday's loss to the Hawks. Anthony Davis was commanding all the defensive attention on his way to a 43-point night, which gave Gordon the room to post his best shooting performance of the season, and third 20-point night in five games. If he can stay healthy this season, Gordon could be headed for his best season since he came to New Orleans.
Recent Tweets
Pelicans starters FG shooting tonight: Davis 12-18 Gee 4-5 Asik 0-3 Gordon 1-9 Holiday 0-4

Lead back 16 after a rebound-fueled run and some missed shots, including a Gordon 3.

Pelicans shooting 4-of-15 from the field in the first quarter. Eric Gordon is 0-of-5.