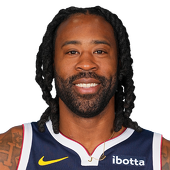 Own

100%

Start

94%

C Rank

10
Latest News
Jordan posted 18 points (3-4 FG, 12-25 FT), 11 rebounds, four blocks, three assists, and one steal in 27 minutes Tuesday against the Nuggets. Jordan posted a solid line in terms of counting categories, but left room for improvement with his atrocious free-throw performance. He's always been a poor shooter from the line, and owners shouldn't really expect that to change anytime soon. That being said, he's been fairly consistent this season, and rare 12-for-25 occasions like these could happen once or twice a season.

Jordan scored 13 points (6-9 FG, 1-4 FT) with a game-high 15 rebounds, five blocks and a steal in 39 minutes during Sunday's loss to the raptors. He didn't have many problems matching up with Bismack Biyombo in the paint, but Toronto's defense held Blake Griffin and Chris Paul in check, which left Jordan with little support. It's his second double-double in a row but only his seventh in 13 games, although Jordan has missed four others by a single point or board.

Jordan collected 12 points (5-6 FG, 2-6 FT), 15 rebounds, an assist and two blocks over 34 minutes in Friday's 102-91 loss to the Blazers. Jordan and Mason Plumlee had an entertaining battle on the glass the majority of the night, with the Clippers center slightly edging his counterpart out in rebounds. Despite playing well overall, Jordan's averages in points and rebounds have taken a slight dip so far this season compared to his outstanding 2014-15 campaign. The 27-year-old is currently averaging 10.2 points and 12.8 boards per contest, as compared to the 11.5 and 15.0 figures he amassed in the same categories last season.

Jordan managed 11 points (3-5 FG, 5-13 FT), nine rebounds, an assist, and a block over 27 minutes in Thursday's 118-104 loss to the Suns. Jordan battled through a first-quarter shoulder injury he sustained when attempting to execute a block on Brandon Knight, but still managed to come within just a rebound of his fifth double-double on the season. The veteran center also lost frontcourt mate Blake Griffin to a second-quarter ejection, adding more misery to what was already a short-handed squad that was missing Chris Paul and J.J. Reddick. Although he is enjoying another solid season to date, Jordan's rebound averages are down by almost three per game, while his nightly scoring figure has also taken a slight dip, from last season's 11.5 to its current 10.1 number.

Jordan pitched in 11 points (4-6 FG, 3-7 FT), 14 rebounds, two assists, and three blocks over 34 minutes in Saturday's 109-105 loss to the Rockets. Jordan endured a game-long dogfight with Dwight Howard to post a second consecutive double-double and third overall on the season. Although he was significantly outrebounded by Howard overall, Jordan did manage to approach the Houston center's 13 defensive rebounds with 10 of his own on that end of the floor. Jordan continues as a strong double-double candidate on any given night, and his scoring usually sees an additional boost when facing somewhat less formidable competition under the basket than he did Saturday.
Recent Tweets
DeAndre Jordan, on his advice to Lance Stephenson: "Just to stay Lance."

7 from Redick and 6 from Jordan. It's all Clippers early. 🏀 Clippers 22 Pelicans 13 🕗 2:@5 | Q1

DeAndre Jordan with 6 points and 6 rebounds already.