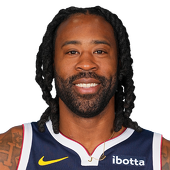 Own

100%

Start

97%

C Rank

7
Player News
Jordan managed 12 points (4-7 FG, 4-6 FT), 18 rebounds, three blocks, one assist, and one steal in 37 minutes during the Clippers' 107-93 win over the Magic on Friday. Jordan is averaging an absurd 13.2 points, 17.8 rebounds, 2.4 blocks, 1.2 assists, and one steal in 35 minutes per appearance over the last five games. Though he is making only 55 percent of his eight free throw attempts per game over that stretch, he is converting on 73 percent from the field and getting his 13.2 points on only six field goal attempts a night. Jordan has had to play well with Blake Griffin missing so much time, and despite Jordan's struggles at the free-throw line, he makes for one of the top centers in fantasy.

Jordan scored 17 points (6-7 FG, 5-8FT), ripped down 20 boards, blocked four shots and added four assists in Sunday's win over the Bulls. The double-double stood out as one of Jordan's best all-around performances of the campaign, as he took advantage of the Chicago big-men reach the 20-rebound plateau for the third time while also setting a new season-high in helpers. Sunday's effort concludes a fine January for Jordan, as he raised his game in the prolonged absence of Blake Griffin to average 15 rebounds, 13.8 points and 1.8 blocks on 69 percent shooting. He can't always be counted on to rack up assists and consistent scoring totals, but Jordan is as good a source of rebounds and field-goal percentage as there is at the moment.

Jordan scored just nine points (3-6 FG, 3-8 FT) but managed to rip down 19 rebounds and block three shots over a team-high 41 minutes in Tuesday's 91-89 win against the Pacers. Jordan gets his boards whether or not Blake Griffin is in the lineup, so to suggest Griffin's extended absence will boost his fantasy value anymore than it already is would be foolish. The Clippers center had gone three straight games without registering a block, but has 13 or more rebounds in four of five.

Jordan produced 15 points (6-9 FG, 3-9 FT) and 13 boards over 32 minutes in Sunday's 112-94 loss to the Raptors. After seeing his streak of 10 consecutive double-doubles come to an end in his team's previous game Friday against the Knicks, Jordan was back on the wagon Sunday, albeit in a game that the Clippers were soundly defeated. However, he's now gone without a block in three straight games, which has dropped his average in that category to 2.2 on the season.

Jordan dropped 20 points (7-7 FG, 6-12 FT), eight rebounds, and two assists in 30 minutes during the Clippers' 116-88 win over the Knicks on Friday. Jordan finished six-of-12 from the charity stripe, but made all seven of his field goal attempts. Following a rare two-game absence, Jordan is averaging 15.3 points on 6.3 shots to go with 12.0 rebounds, one assist, and 0.7 blocks in 35 minutes per game over the last three contests.
Recent Tweets
Dwyane Wade: "If you are worrying about DeAndre Jordan missing free throws for you to win a ballgame, then you have already been beat."

Dwyane Wade: "DeAndre Jordan is a helluva defender. He doesn't get enough credit."

DeAndre Jordan, dunk artist. #TheLobTheJam https://t.co/qXGY50mG5L