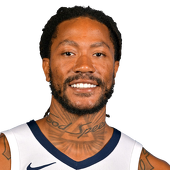 Own

99%

Start

83%

PG Rank

20
Player News
Rose (soreness) scored 14 points (6-18 FG, 2-2 3Pt) to go along with five rebounds, three assists, and one steal in 29 minutes during the Bulls' 113-90 loss against the Hawks on Wednesday. Rose returned to the starting lineup after a one-game absence due to general soreness. Oddly enough, Rose drained both of his three-point attempts, and shot 4-for-16 from two-point range. Through five appearances in February, the former MVP is managing 19.4 points on 37 percent from the field, 6.8 assists, 5.6 rebounds, 1.2 steals, 0.6 threes and 0.2 blocks in 34 minutes per game. With Jimmy Butler (knee) set to miss at least the next several weeks, Rose will likely be relied on to carry the offense along with teammate Pau Gasol.

Coach Fred Hoiberg confirmed at morning shootaround that Rose (general soreness) would be available for Wednesday's game against the Hawks, K.C. Johnson of the Chicago Tribune reports. Rose was a surprising scratch in advance of Monday's game against the Hornets due to general body soreness, but it looks like the night off the hardwood was all time off the 27-year-old needed to recuperate. The Bulls didn't even list Rose on their injury report heading into Wednesday's matchup, so there's a high probability that he'll see a normal or even an elevated minutes load, and his usage should also increase with Jimmy Butler (knee) unavailable. Though he's largely disappointed this season, Rose has produced better, if inefficient, outings of late, as he's averaging 20.6 points (on 41% shooting), seven assists, 5.6 boards, and one steal over 34.6 minutes in his past five contests.

Rose is not listed on the Bulls' injury report and will be in the lineup on Wednesday, K.C. Johnson of the Chicago Tribune reports. Rose sat out of Monday's loss to the Hornets due to general soreness but after the night off he should be ready to return to the starting lineup on Wednesday. The former-MVP has missed seven games this season, a somewhat reassuring sign taking into account that he has missed 185 games over the past three seasons. Rose could see his minutes slightly monitored on Wednesday but may also see a heavier workload as fellow guard Jimmy Butler (knee) has been ruled out for three-to-four weeks.

Rose will not play in Monday's contest against the Hornets due to body soreness, Nick Friedell of ESPNChicago.com reports. Rose is not playing due to what has been described as soreness all over his body. It doesn't appear that this is anything serious and the Bulls are keeping him out to allow him some time to rest. He's likely to play in Wednesday's game against Atlanta. Kirk Hinrich will be starting in place of Rose for Monday's tilt.

Rose went for 30 points (13-27 FG, 4-6 FT), nine rebounds, eight assists and a steal over 35 minutes in Friday's 110-105 loss to the Nuggets. Rose once again was forced to shoulder greater offensive responsibility, with Pau Gasol sitting out the game and backcourt mate Jimmy Butler being wheeled off the court late in the first half with a knee injury. The veteran was up to the task, amassing a near triple-double while taking the most shot attempts he has all season in an non-overtime contest and racking up his second-best scoring tally on the campaign. Primarily due to Butler's absence for a combined six quarters-plus over the last two games, Rose is already averaging a robust 21 shot attempts per game in three February contests, over six more per game than his previous high-water mark of 15.7 in January. He's also been outstanding with his ball distribution over the last two contests in particular, totaling 17 dimes over that span. If Butler is forced to miss any appreciable amount of time, Rose appears capable of boosting his overall production across all categories while shouldering the additional load, provided his own often-delicate health remains intact.
Recent Tweets
Jimmy Butler said Derrick Rose is offering support, advice on injury front: https://t.co/9kIHFya1FZ

Jimmy Butler said Derrick Rose has been supportive during Butler's injury, texted him to tell him to make sure his body's right.

Rose (cont.) "come back, got 30 games left and we got to decide whether we want to play or not ..."