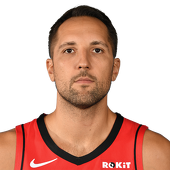 Own

97%

Start

72%

PF Rank

71
Latest News
Anderson scored 29 points (8-14 FG, 4-7 3Pt, 9-9 FT) with five rebounds and a block in 33 minutes off the bench during Sunday's win over the Suns. He's been completely ridiculous over the last four games, averaging 28.3 points and 6.3 boards while shooting 15-for-32 (46.9 percent) from three-point range. Anderson won't be able to keep this pace up, of course, but he is a career 37.9 percent shooter from beyond the arc, so if the Pelicans continue to feed him looks he'll have plenty of value.

Anderson scored 30 points (12-21 FG, 6-11 3Pt) with seven rebounds in 33 minutes off the bench during Friday's win over the Spurs. He got bumped back to the second unit with Anthony Davis' return from a shoulder injury, but the switch didn't cool Anderson off. He's scored 24 or more points in three straight games, shooting 44 percent (11-for-25) from three-point range over that stretch.

Anderson started for the injured Anthony Davis (shoulder) Wednesday against the Thunder and posted 30 points (13-25 FG, 4-10 3Pt) seven rebounds, three assists, and two steals in 44 minutes. Anderson certainly made the most of his minutes and usage rate, and didn't seem to have a problem with launching many shots. Owners apparently didn't have an issue with that either, as he produced arguably his best line of the season. Davis isn't expected be out for too long, so Anderson will cool off eventually, but he's still contributing enough even off the bench to be owned in standard leagues. For now, owners can enjoy his short-term burst of production.

Anderson exploded for 24 points (10-17 FG, 1-4 3Pt, 3-4 FT), six rebounds, and two assists in 34 minutes of action Tuesday against the Nuggets. Anderson made the most of Anthony Davis (shoulder) coming down with an injury, and he figures to be the main beneficiary of minutes and production if Davis misses a game. While the injury isn't supposed to be too serious, Anderson still holds value in most formats because he's locked in for at least a 20-minute role with or without Davis.

Anderson is on tap to start at power forward Wednesday against the Hawks, John Reid of the New Orleans Times-Picayune reports. The Pelicans are listing Anthony Davis as doubtful for the game after he suffered a right hip strain in Tuesday's win over the Mavericks, paving the way for Anderson to enter the lineup. Davis' injury isn't expected to be a long-term concern, but in the meantime, Anderson could see a dramatic uptick in both his usage and minutes with the Pelicans star likely unavailable. Anderson had already enjoyed increased productivity in the team's last two games, scoring 20-plus points in consecutive contests. He's a worthy lineup option in daily formats Wednesday night.
Recent Tweets
Ant. Davis (26.0ppg/18.5rpg), Ryan Anderson (29.5ppg) potent duo in #Pelicans weekend wins: https://t.co/eKGdSO90Id https://t.co/eBciZ0QhHA

What about Ryan Anderson's emergence? 2-game winning streak? Tyreke Evans' return? Taking your Pelicans twitter mailbag questions, comments

Gentry likes the space the Davis/Anderson combo creates. If defender comes to help on Davis, has to leave Anderson on perimeter.