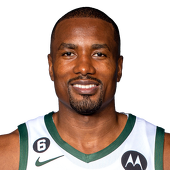 Own

99%

Start

68%

PF Rank

37
Player News
Ibaka registered a double-double in 33 minutes during Monday's win over the Wizards, scoring 19 points (8-13 FG, 1-2 FT, 2-3 3Pt) to go along with 10 rebounds, three assists and two blocks. The 26-year-old has been a mixed bag of late, as he now has two double-doubles in his last four games, with just eight points and six rebounds combined in the other two. Ibaka is generally the third or fourth option on offense for the Thunder, so his scoring numbers tend to fluctuate based on the performances of Kevin Durant and Russell Westbrook. For Ibaka to maintain his fantasy value amid the offensive inconsistencies, rebounding and three-point-shooting nights such as this will need to occur with more frequency, along with the typical contributions in blocks.

Ibaka registered 12 points (5-12 FG, 0-2 3Pt, 2-2 FT), 17 rebounds (six offensive), two assists, and two blocks across a season-high 47 minutes in Tuesday's 128-122 overtime win against the Knicks. The 17 boards were also a season best for Ibaka, but it marked just the third time in the last 25 games that he'd recorded double-digit rebounds. Ibaka is still a stellar shot blocker, but the decline he's shown as a scorer and glass clearer have resulted in a downturn in his fantasy value this season compared to 2014-15.

Ibaka contributed 11 points (5-9 FG, 1-4 3Pt), eight rebounds, and one assist over 38 minutes in Wednesday's 109-95 win over the Hornets. It's not exactly an eye-popping performance for Ibaka, but it qualified as a bounce-back outing after he was limited to four points on 2-of-8 shooting a night earlier against the Nuggets. Ibaka is seeing comparable playing time to what he received in 2014-15, but his stats are slightly down in just about every category except for three-point and field-goal percentage.

Ibaka had 19 points (9-15 FG, 1-3 3Pt), seven rebounds, and one steal in 33 minutes during the Thunder's 99-74 win over the Heat on Sunday. Ibaka is averaging 14.8 points (53.4 FG, 55.0 3Pt, 50.0 FT), 6.8 rebounds, 2.2 threes, two blocks, 0.8 assists, and 0.6 steals in 34 minutes per game over the last five contests. After making 20 three-pointers from the beginning of the season through the end of December, Ibaka has already made 14 threes in January while connecting at a 48 percent clip.

Ibaka contributed 25 points (10-17 FG, 3-5 3Pt, 2-4 FT), seven rebounds, five blocks, one assist, and one steal in 40 minutes during the Thunder's 116-104 loss to the Kings on Monday. Ibaka stepped up and provided more offense than usual with Kevin Durant sitting out with a sprained toe on Monday. Over the five most recent games, Ibaka is averaging 15.6 points (52.8 FG, 41.7 3Pt, 89.5 FT), five rebounds, 3.6 blocks, one assist, and 0.2 steals in 34 minutes per night.
Recent Tweets
📺 Highlight from tonight. Payne to Westbrook to Ibaka. Watch the passing on this one. 🏀🏀 https://t.co/XDpWZn9hw9

The Thunder need to trade for Markieff Morris and have him talk trash to Serge Ibaka nonstop. Ibaka is locked in defensively right now.

First half Durant 7 points Ibaka 8 points OKC 8 threes (6 players) https://t.co/51R49wA0gM https://t.co/i6tnDkO0ia