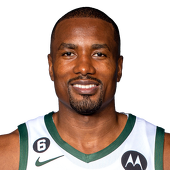 Own

100%

Start

83%

PF Rank

38
Latest News
Ibaka went cold from the field in Wednesday's win against the Pelicans, posting just six points (2-11 FG, 0-1 3Pt, 2-4 FT), five rebounds, one assist, one steal, and one block in 33 minutes. Ibaka had a rather uncharacteristically inefficient performance Wednesday, and it's unlikely he'll repeat it too often this season. He's never been a great rebounder, but his blocking ability puts him ahead of many big men, and owners shouldn't expect too many 18-percent shooting performances from him moving forward.

Ibaka posted 18 points (8-16 FG, 2-3 3Pt, 0-2 FT), nine rebounds, and three blocks in 35 minutes of action Monday against the Grizzlies. Ibaka's performance Monday resembled a rather average one for the big man, who has averaged 15.6 points, 8.2 rebounds, and 2.6 blocks over the last five games. He's attempted more field goals over the last two games (16.0 FGA) compared to his season average (12.4 FGA), perhaps due to the absence of Kevin Durant (hamstring), but this behavior won't last long when Durant returns. Still, he's capable of grabbing boards, hitting treys, and swatting shots, which makes him a strong option moving forward, even when Durant comes back.

Ibaka scored 16 points (8-16 FG, 0-1 3Pt) with 10 rebounds and three blocks in 35 minutes during Sunday's loss to the Celtics. It's just his second double-double of the season, but unfortunately it was wasted on a night when Russell Westbrook was the only other OKC player to score in double digits. Ibaka is now averaging 14.6 points, 8.1 boards and 3.0 blocks in eight November games.

Ibaka scored 11 points (4-12 FG, 1-1 3Pt, 2-2 FT) with seven rebounds, seven blocks, two assists and a steal in 29 minutes during Friday's win over the 76ers. After a rare two-game stretch without a rejection, Ibaka roared back with a new season high in blocks. He's now averaging 14.4 points, 7.9 boards and 3.0 blocks in seven November games.

Ibaka finished with 23 points (9-15 FG, 3-3 3Pt, 2-3 FT), six rebounds and three assists in Tuesday's 125-101 win over the Wizards. Ibaka doesn't step out often, but managed to hit all three of his shots from downtown after previously going 1-for-6 in his first seven games of the season. He played a team-high 30 minutes, though the Thunder were coasting to victory early in this one.
Recent Tweets
Thunder leads Jazz 23-20 after one. Kevin Durant leads all scorers w/11. WATCH: Serge block, Russ pass, KD bucket https://t.co/o9XbZu71ug

Starters for Thunder: Westbrook, Roberson, Adams, Ibaka, Durant. #ThunderBasketball

Thunder closes half on 10-2 run, leads Mavs at halftime 60-52. Westbrook 13p-4a-4s. Ibaka 10p-8r. https://t.co/fEGGEZJswn