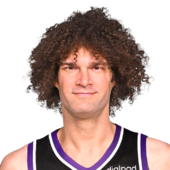 Own

79%

Start

30%

C Rank

29
Player News
Lopez scored nine points (4-7 FG, 1-2 FT) to go along with 10 rebounds on Friday in a loss to the Grizzlies. Lopez was on quite on a heater in his previous two games and he nearly completed the task of three straight double-doubles. Owners of Lopez should fear not, as this was an unfavorable matchup for him. If anything, they should be inspired by his play of late since he's averaged 17.3 points and 13 rebounds in the last three games.

Lopez scored 26 points (11-14 FG, 4-4 FT) to go along with 16 rebounds, two assists and a steal on Thursday in a loss to the Pistons. Lopez absolutely crushed it on Thursday, as he posted season-highs for both points and rebounds. Something has got Lopez fired up lately and it would be hard to find a center in the NBA posting better numbers at the moment. In the first two games of February, he's posted massive double-doubles in both games. It'll be a difficult task to make it three double-doubles in a row when the Knicks face the Grizzlies on Friday.

Lopez dropped 17 points (6-12 FG, 5-6 FT) with 13 rebounds while blocking three shots over 37 minutes in Tuesday's 97-89 loss to the Celtics. Lopez had gone six games without recording a double-double and is beginning to show that he can perform when given the minutes. The last three games in which Lopez received 30+ minutes he's recorded a double-double. The Knicks have very little depth at center, but that hasn't helped Lopez improve his fantasy stock much over the course of the season.

Lopez provided seven points (3-5 FG, 1-2 FT), eight rebounds (four offensive), and two blocks across 25 minutes in Thursday's 103-93 loss to the Raptors. Since erupting for a season-high 22 points back on Jan. 20, Lopez has reverted to his usual quiet self on the offensive end. He's failed to tally more than 10 points in any of his last four games, and Thursday's meager output was particularly disappointing, as the Knicks were down three starters in Jose Calderon (groin), Carmelo Anthony (knee), and Kristaps Porzingis (illness). Lopez remains one of the lower-end fantasy centers among the league's regular starters at the position.

Lopez totaled 22 points (11-14 FG), 12 rebounds, and three blocks in 40 minutes during the Knicks' 118-111 overtime win against the Jazz on Wednesday. Lopez surpassed 20 points for the first time as a Knick while playing a season-high 40 minutes. He is averaging 13.6 points on 65 percent from the field, 8.2 rebounds, 1.8 blocks, and 0.6 assists in 29 minutes per contest over the last five games.
Recent Tweets
.@carmeloanthony leads the #Knicks w/ 13pts at the half. Afflalo w/ 11, @rolopez42 w/ 10. #NYKvsWAS https://t.co/2TDRzcviYt

.@rolopez42 w/ 8p/3r at the end of the 1Q. WAS 35 NYK 21. #NYKvsWAS https://t.co/NUyaXqL9eY

Sasha b4 Grant. Neither Lopez or KP on the floor at moment. NY down 14 in 1Q. Not a ton of noticeable changes, rotation or otherwise, yet.