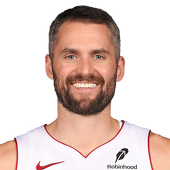 Own

100%

Start

100%

PF Rank

7
Latest News
Love totaled 21 points (7-14 FG, 5-8 3Pt, 2-4 FT), 13 rebounds, and two assists in 35 minutes during the Cavaliers' 103-99 loss versus the Raptors on Wednesday. It didn't result in a win for the Cavaliers, but Love continued his stellar play on Wednesday, scoring 21 points on only 14 shot attempts. He continues to at least resemble the Love we knew on the Timberwolves, and with LeBron James making a conscious effort to get Love more involved this season, he is likely to be among the top fantasy producers at his position regardless of format.

Love continued to shoot the lights out in Monday's 117-103 win over the Magic. He scored a game-high 34 points (11-18 FG, 6-9 3Pt, 6-7 FT) with eight rebounds and four assists in 34 minutes. For the second night in a row, Love shot over 60 percent from the field and has hit 50 percent of his three-point shots (8-for-16) over that span. Love is really locked in right now and the Cavaliers are riding his hot streak.

Love scored a game-high 25 points (9-15 FG, 2-7 3Pt, 5-6 FT) with 11 rebounds, two assists, a steal and a block in 31 minutes during Saturday's win over the Hawks. He continues racking up double-doubles, and Love now has two straight and eight in 13 games. He's also scored 20 or more points in five of his last seven games, and while his scoring remains a little suppressed overall, his second campaign in Cleveland has been a much more successful one on the boards so far.

Love scored 22 points (7-15 FG, 3-5 3Pt, 5-5 FT) and recorded 15 boards, one assist, one steal, and one block over 34 minutes in Thursday's win over the Bucks. Love saw his rebound rate dip in his first season in Cleveland, but now looks like he's returned to being the machine on the glass that he was throughout his tenure in Minnesota. He's hauled in at least eight boards in every game this season and is averaging 12.1 for the season, good for third in the NBA behind the Pistons' Andre Drummond and the Clippers' DeAndre Jordan.

Love scored 19 points (7-13 FG, 1-4 3Pt, 4-4 FT) and pulled down nine rebounds with three assists over 34 minutes in Tuesday's 104-99 loss to the Pistons. Love fell just a rebound short of his third straight double-double and continues to be very inconsistent from beyond the arc, shooting at a 30 percent clip in November. He should have an easier time Thursday against the Bucks.
Recent Tweets
Cavs 95, Hornets 90; Jason Lloyd's 33 thoughts on barbecue chicken, dabbing, Jordan and missing Love: CHA... https://t.co/r8Jte7L4Hu

#Cavs Kevin Love told Blatt to keep him off the court late, says "I will do it any time as long as we can get a W" https://t.co/1uf2RqylEf

BBQ chicken, dab vs. dap, Michael Jordan, Kevin Love and the Octonauts. Final thoughts: https://t.co/JymVo2FzUV