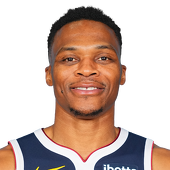 Own

100%

Start

96%

PG Rank

2
Latest News
Westbrook struggled in Friday's win over the Pistons, scoring 14 points (5-14 FG, 1-3 3Pt, 3-5 FT) while committing 11 turnovers in 29 minutes. He also chipped in four boards, four assists and a steal, but overall it was the worst game of the season for the normally devastating Westbrook, who's only failed to score 20 or more points twice in 17 games. Barring the announcement of an illness or injury to explain the poor performance, expect him to bounce back Monday against the Hawks.

Westbrook posted 27 points (10-16 FG, 0-3 3Pt, 7-8 FT), 13 assists, six rebounds, and five steals in 35 minutes Wednesday against the Nets. Westbrook has been on a tear over the past five games, averaging 31.0 points, 6.8 rebounds, 9.6 assists, and 3.2 steals during that span. The return of Kevin Durant doesn't appear to be preventing Westbrook from posting elite numbers, as evidenced by his uber-efficient 15-for-26 shooting from the field and 17-for-18 showing at the line over the past two games. It is noteworthy that he's attempting fewer field goals, but owners can't complain when he's capitalizing on almost every category night in and night out.

Westbrook had his lowest-scoring outing in three weeks on Monday, posting just 20 points (5-10 FG, 0-2 3Pt, 10-10 FT), nine assists, seven rebounds, and one steal in 27 minutes against the Jazz. The Thunder controlled the game early, which led to a garbage-time situation, limiting Westbrook to just 27 minutes. He was fairly efficient during his time on the court, and owners shouldn't be worried about this subpar performance. As long as he's hitting 30-plus minutes a night, he has a pretty strong shot to hit 25 points on a regular basis.

Westbrook went for 31 points (12-22 FG, 2-5 3Pt, 5-6 FT), five rebounds, 11 assists, five steals, and one block in 37 minutes during the Thunder's 117-114 win versus the Mavericks on Sunday. Westbrook committed seven turnovers, and he continues to lead the league in giveaways per game. However, he also leads the NBA in assists per game, is second in points per game, and fourth in steals per game. The turnovers might hurt a little in some category leagues, but even still it's pretty impossible to complain with the MVP-level production he is providing on a nightly basis.

Westbrook went wild again in Wednesday's win over the Pelicans, scoring 43 points (14-25 FG, 0-3 3Pt, 15-20 FT) to go along with nine boards, eight assists, one steal, and one block over 36 minutes. That's back-to-back 40-plus-point efforts for Westbrook, and three overall on the season. He's been even more of a focal point in the Thunder attack than usual with Kevin Durant (hamstring) sidelined the last four games, which has allowed Westbrook to post impressive averages of 32.8 points, 9.5 assists, 8.5 rebounds, 2.5 steals, and 0.8 blocks during that span. However, that high usage has also come with the price of an increase in turnovers (5.5 per game), though his ample across-the-board production has been more than enough to atone for that deficiency.
Recent Tweets
I like picturing Kevin Durant, Russell Wilson and Derek Jeter all Skyping right now frantically trying to get the Players Tribune back up.

Here's the entire Russell Westbrook exchange on Reggie Jackson: https://t.co/u8WGN4mkwP

Russell Westbrook asked about Reggie Jackson's return: "Who?" Reggie Jackson. "What happened?"