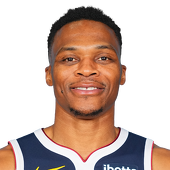 Own

100%

Start

87%

PG Rank

3
Player News
Westbrook had 29 points (8-19 FG, 2-5 3Pt, 11-12 FT), eight rebounds, eight assists, and two steals in 36 minutes during the Thunder's 122-106 win against the Suns on Monday. Westbrook gave the ball away six times, but he was rather efficient otherwise thanks to the fact that he earned 12 free-throw attempts. It's pretty crazy, but Monday basically counts as an off night for the man who leads the league in double-doubles. Looking ahead to Thursday's matchup with the Pelicans, opposing guard Jrue Holiday has given Westbrook some trouble in the past, but Holiday comes off the bench, so Westbrook will likely spend plenty of time facing off against subpar individual defenders--which is a recipe for disaster in New Orleans.

Westbrook tallied 27 points (8-22 FG, 2-4 3Pt, 9-9 FT), 12 assists, three rebounds and three steals over 37 minutes in Saturday's 116-108 loss to the Warriors. The dynamic All-Star has now rattled off four double-doubles and three triple-doubles in his last seven games, and is already averaging a triple-double per night over the first three games of the new month. Westbrook did struggle somewhat from the field on Saturday, but was an integral part of the Thunder staying competitive with the reigning champs until the final seconds. He also played a solid defensive game against Stephen Curry, and helped limit the prolific sharpshooter to just a single made three-pointers in nine attempts. Westbrook is now averaging 22.7 points, 12.3 assists, 11.7 rebounds and 2.0 steals over 37.0 minutes in the Thunder's first three February contests.

Westbrook went for 24 points (10-18 FG, 0-1 3Pt, 4-4 FT), 19 rebounds, 14 assists, and two steals in 38 minutes during the Thunder's 117-114 win over the Magic on Wednesday. Westbrook was in attack mode as per usual on Wednesday, posting the first 24-19-14 line sine Larry Bird did it back in the 80s. Westbrook's 19 rebounds were a career-high, and he continues to read and react in the pick-and-roll game as well as any point guard in the league. The Thunder are back in action on Saturday versus the Warriors.

Westbrook registered his seventh triple-double of the season in Monday's win over the Wizards, with 17 points (8-13 FG, 1-1 FT, 0-3 3Pt), 13 rebounds, 11 assists and a steal across 36 minutes. It was the second straight game that Westbrook achieved the triple-double, and the fourth time since mid-January. He finally shot a strong percentage from the field after struggling for much of the last month, but he did fail to connect on a three-pointer for the fourth time in seven games. Despite his shortcomings, Westbrook's all-around potential every single night makes him an elite fantasy play in all formats.

Westbrook scored 26 points (9-21 FG, 1-2 3Pt, 7-10 FT) to go with 14 assists, 10 rebounds, one steal, and one block in 37 minutes during the Thunder's 116-108 win versus the Rockets on Friday. Westbrook delivered his sixth triple-double of the season. However, he did turn the ball over a whopping eight times. Since Westbrook is forced to create so much offense for himself and others, it's hardly surprising he ends up with so many assists and turnovers. The giveaways are just about the only real negative that exists in fantasy when it comes to Russ, who continues to put up jaw-dropping numbers on a nightly basis.
Recent Tweets
📺 Highlight from tonight. Payne to Westbrook to Ibaka. Watch the passing on this one. 🏀🏀 https://t.co/XDpWZn9hw9

Thunder beat the Suns 122-106. Durant 32, Westbrook 29-8-8, Waiters 15, 4 assists and 3 steals, Kanter and Payne each with 11.

Thunder lead 89-85 after three. Durant with 21, Westbrook 19-5-6, Waiters 19, Kanter 9 and 5.