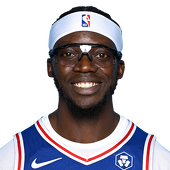 Own

100%

Start

95%

PG Rank

17
Latest News
Jackson scored a game-high 31 points (11-18 FG, 3-4 3Pt, 6-8 FT) to go along with eight assists, five rebounds and two steals in Monday's 116-105 win against the Rockets. After one of his worst shooting performances of the season Sunday, Jackson bounced back with a huge first half Monday, scoring 17 points. Jackson remains the No. 1 scoring threat from outside for Detroit, but his inconsistencies have surely been driving fantasy owners a bit mad lately.

Jackson accumulated eight points, six rebounds, and nine assists in Detroit's 87-83 loss to the Nets on Sunday. Jackson had a solid game all around against the Nets except for his 4-20 performance from the field. His shooting held him back from having a great game and possibly scoring 15-20 points instead of the eight he was able to score. He's had his struggles as of late to get a rhythm shooting the ball but as the team's starting shooting guard he will remain a major piece in their offense.

Jackson scored 20 points (8-18 FG, 1-6 3Pt, 3-3 FT) with nine assists, three rebounds and a steal in 32 minutes during Saturday's loss to the Wizards. It's the eighth time this season that Jackson has scored 20 or more points, leading him to a career-high 20.4 PPG average as he continues to settle in with the Pistons. Jackson has also racked up 26 assists over the last three games, numbers closer to the 9.2 APG rate he managed after being acquired by Detroit last season. Expecting him to average nearly 20 points and 10 assists a night is optimistic, but he should still be one of the Eastern Conference's most productive point guards.

Jackson netted 23 points (7-18 FG, 1-2 3Pt, 8-8 FT) and handed out a season-high 12 assists with six rebounds over 34 minutes in Tuesday's 104-99 win against the Cavs. After his worst game of the season in Sunday's loss to the Lakers, Jackson responded with a big outing against the rival Cavaliers to end the Pistons' four-game skid. Jackson doesn't really have anyone off the bench that could threaten his minutes, so he'll continue to be one of the top scoring point guards in the NBA.

Jackson scored 20 points (7-15 FG, 2-6 3Pt, 4-5 FT) with six rebounds, five assists and a steal in 34 minutes during Saturday's loss to the Clippers. He's now scored 20 or more points in six of his last seven games, as Jackson has emerged from Russell Westbrook's shadow in Oklahoma City to become one of the most dynamic point guards in the Eastern Conference with the Pistons.
Recent Tweets
This means Reggie Jackson at $80 million is a bargain, right? Someone get John Wall on the phone! https://t.co/z7y9RmYS7C

Pistons' Jackson fined $25K for tirade vs. Thunder fan https://t.co/Gzwpbazl76 via @freep

Ersan is the best three-point shooter they have by far. Creates space for Reggie, Andre two most important guys. https://t.co/5vQAOwjDOO