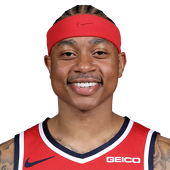 Own

100%

Start

98%

PG Rank

13
Player News
Thomas scored 22 points (5-19 FG, 1-2 3Pt, 11-11 FT) to go along with four rebounds, four assists and a steal on Friday in a win against the Cavaliers. Thomas once again played an important part in the Celtics' success on and led his team to the victory on Friday. The one thing that stood out for Thomas was that he went a perfect 11-for-11 from the charity stripe, and that was highly crucial since the Celtics only won a by a single point. Thomas has a great matchup on Sunday against the Kings and will be one of the top plays on the DFS circuit.

Thomas scored 17 points (7-17 FG, 2-4 3Pt, 1-2 FT) to go along with seven assists, five rebounds and one steal in a win on Wednesday against the Pistons. Thomas had a decent night, considering he was on the back-end of a back-to-back. The Celtics got the win and Thomas was the leading scorer, but this performance certainly doesn't crack the surface of his overall potential. The Celtics get another chance at fantasy greatness on Friday when they travel to Cleveland for a rematch of last year's first-round matchup against the Cavs. Thomas will have a favorable matchup going against Kyrie Irving and should be considered one of the top DFS plays on the board Friday night.

Thomas scored 20 points (7-18 FG, 1-5 3Pt, 5-5 FT) while dishing out eight assists with five rebounds during 37 minutes in Tuesday's 97-89 win against the Knicks. Thomas continues to struggle from the field, shooting at a 42.7 mark over the past five games. Still, his scoring averages haven't really dipped much, so as long as Thomas continues to dominate the ball he should find 20 points on most nights.

Thomas totaled 23 points (7-16 FG, 5-9 3Pt, 4-5 FT), four rebounds, four assists, and two steals in 32 minuets during the Celtics' 119-114 loss to the Magic on Sunday. Thomas fouled out of a game for the first time in his career, otherwise he might have seen a little bit more playing time. Nevertheless, the 5-9 guard scored 20 or more points in 12 of 17 games during the month of January, and he has led the Celtics to an impressive 27-22 start.

Thomas (ankle) tallied 14 points (5-14 FG, 0-3 3Pt, 4-4 FT) and eight assists in 27 minutes during the Celtics' 113-94 win against the Magic on Friday. The All-Star guard sat out Thursday's practice with a sore ankle, but he played as expected on Friday in the Celtics' fourth straight victory. Thomas had four turnovers, and he also scored fewer than 15 points for just the fifth time in 47 games. However, he was only needed to play 27 minutes since the game didn't go down to the wire, which is probably best for his health. The Celtics are back in action on Sunday in a road rematch versus the Magic.
Recent Tweets
Here's tonight's @Amtrak Away Game Starting Lineup: I. Thomas A. Bradley J. Crowder A. Johnson J. Sullinger https://t.co/zxshM4CQCq

Isaiah Thomas said, "It's been a cool little week and a half." He discusses his Player of the Week award here: https://t.co/CChWVXoMzp

Yes, I do. I'd hope to keep Crowder, Thomas, & the BK picks. Everything else I'll deal with https://t.co/Xk42HdLwEf