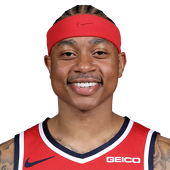 Own

100%

Start

96%

PG Rank

11
Latest News
Thomas tallied 30 points (11-21 FG, 4-7 3Pt, 4-4 FT), four rebounds, six assists, and one steal in 39 minutes during the Celtics' 84-80 win versus the 76ers on Wednesday. Thomas turned the ball over three times, but posted a season-high 30 points, helping lead the Celtics to a win on the second night of a back-to-back. Thomas is enjoying the best year of his NBA career, and unless the team makes a trade at some point this season, he figures to remain the go-to option offensively.

Thomas scored 18 points (7-15 FG, 4-9 3Pt, 0-1 FT) with a game-high nine assists and a steal in 28 minutes during Friday's win over the Nets. It's actually his worst scoring performance in the last five games, as Thomas has taken over this season as the Celtics' primary option on offense. He's now averaging 19.5 points, 6.4 assists, 2.4 threes and 1.3 steals in 10 November games.

Thomas scored a game-high 23 points (9-12 FG, 4-7 3Pt, 1-1 FT), adding six assists and two steals over just 24 minutes in Monday's 111-95 win against the Rockets. Thomas was incredibly efficient as coach Brad Stevens went deep into his bench in a game the Celtics controlled after the first half. Boston is finally healthy and Thomas has scored 20 or more points in four of his past five games. While his minutes may be a bit inconsistent from game-to-game, Thomas is easily the most talented scorer on the Celtics.

Thomas scored 20 points (8-17 FG, 3-9 3Pt, 1-1 FT) with eight assists and two rebounds in 34 minutes during Sunday's win over the Thunder. He's now scored 20 or more points in six of nine games this season, and Thomas is quickly emerging as the Celtics' main offensive threat this season. He's also averaging what would be a career-high 6.3 assists, as second-year point guard Marcus Smart is still developing into his role as the team's primary distributor.

Thomas recorded 23 points (8-18 FG, 4-9 3Pt, 3-4 FT), five rebounds, 10 assists, and two steals in 34 minutes during the Celtics' 106-93 win versus the Hawks on Friday. It doesn't matter whether the Pizza Guy is starting or coming off the bench, as he almost always seems to deliver. On a Celtics team lacking a true superstar, Thomas is easily the closest thing the squad has to a go-to-guy, and he should continue to provide excellent value so long as he remains healthy going forward. With Avery Bradley nursing a calf strain, Thomas may very well be asked to start again when the Celtics take on the Thunder on Sunday.
Recent Tweets
#Celtics beat #Wizards 111-78 to improve to 9-7. Thomas 21, Sullinger 18 and 15 rebs, Crowder 17; Dudley 19, Beal 16, WSH 22 turnoverns.

The Celtics rise far above the Wizards, 111-78, for their 2nd straight win. Sully: 18 pts, 15 rebs. Thomas: 21 pts. https://t.co/0JdefjLk9R

For all the crap Isaiah Thomas gets for his defense, worth pointing out a positive: John Wall has just five points on 2-of-8 shooting.