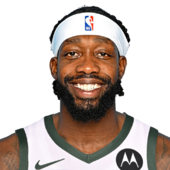 Own

20%

Start

2%

PG Rank

74
Latest News
Beverley will enter the starting lineup Friday, Mark Berman of Fox 26 in Houston reports. Beverley made his return to action Wednesday after missing five games, and he finished with four points, two rebounds and two assists in 19 minutes off the bench. He'll now start alongside James Harden in the backcourt, as was the case for the bulk of last season. That means Jason Terry will shift to the bench, and Ty Lawson will remain in a reserve role.

Beverley totaled four points (2-5 FG, 0-2 3Pt), two rebounds, and two assists, in 19 minutes during the Rockets' 102-93 loss versus the Grizzlies on Wednesday. Beverley returned to action on Wednesday after missing the last couple weeks with a sprained ankle. Beverley also had a concussion prior to that, so he has dealt with his fair share of injuries thus far this season. Still, even once he returns to full health, it's hard to trust Beverley too much given the Rockets' crowded back-court rotation.

Beverley (ankle) will play limited minutes Wednesday against the Grizzlies according to interim coach J.B. Bickerstaff, broadcaster Craig Ackerman reports. Beverley seems to be in store for a reserve role off the bench behind Jason Terry on Wednesday, while also splitting minutes with Ty Lawson. Now returning from a severely sprained left ankle, Beverley could certainly move into the starting five over both Terry and Lawson in the near future.

Beverley (ankle) was a full participant in Wednesday's morning shootaround, but remains questionable for the game later in the evening against the Grizzlies, Jonathan Feigen of the Houston Chronicle reports. All indications are that Beverley is trending in the direction of being available off the bench Wednesday, but after missing the last five games, he'll likely be limited in some capacity. Once he demonstrates that he's fully healthy in a game, Beverley could be viewed as an option for the starting point guard job, though those duties will fall to Jason Terry on Wednesday.

Beverley (ankle) is questionable for the Rockets tilt against the Grizzlies on Wednesday night, the Houston Chronicle reports. Beverley practiced on Tuesday after missing the last five games due to a sprained ankle. If he plays, interim coach J.B. Bickerstaff said his minutes would be monitored, and will come off the bench behind current starter Jason Terry. Bickerstaff also said that Terry, Beverley, and Ty Lawson will all get minutes in order to make the Rockets lineup more creative and flexible at the point guard position, which means fantasy-wise, their statistics could take a drop and become harder to predict.
Recent Tweets
Pat Beverley picks up a technical foul. With just under 5:00 to play till halftime, Rockets up 42-36 on 76ers.

Pat Beverley has a fan over to his house to celebrate Thanksgiving @patbev21 @KingHusamE #Rockets https://t.co/rIiUAt1jbO

When Bickerstaff was talking about starting lineup changes earlier, I assumed he meant Beverley at PG-didn't call the Capela start.