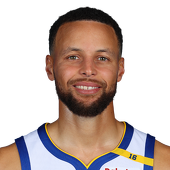 Own

100%

Start

94%

PG Rank

1
Player News
Curry recorded 51 points (19-28 FG, 11-16 3Pt, 2-3 FT), seven rebounds, three steals, and two assists in 36 minutes during the Warriors' 134-121 win over the Wizards on Wednesday. Curry scored 50 or more points for the second time this season, and he matched his career-high with 11 triples--one shy of matching the NBA record. The reigning MVP did turn the ball over seven times, but he certainly responded well after an extremely rare off night versus the Knicks on Sunday in which he scored 13 points on 5-of-17 shooting.

Curry had 23 points (9-19 FG, 5-11 3Pt), six assists, five rebounds, two blocks and a steal in a win against the Sixers on Saturday. Curry struggled with his shot at the onset of the game and uncharacteristically finished with seven turnovers. However, Curry and the rest of the Warriors did enough to win against the lowly Sixers and avoid a major letdown. The reigning MVP is certainly not in any danger of taking a step back, and should be rolled out in every single fantasy format without hesitation.

Curry recorded 37 points (12-20 FG, 6-9 3Pt, 7-7 FT), five steals, three assists, and two rebounds in 28 minutes during the Warriors' 120-90 victory versus the Spurs on Monday. Chef Curry was cooking on Monday, and he turned the ball over only once as well. His historically efficient season continues, as Curry is scoring more than 30 points per game on fewer than 20 field goal attempts. The 27-year-old guard is primed to win his second straight MVP this season, and these days he barely seems human anymore.

Curry posted 39 points (11-19 FG, 8-15 3Pt, 9-9 FT), 10 rebounds, 12 assists and a steal over 37 minutes in Friday's 122-110 victory over the Pacers. The reigning MVP's talents are maximized in competitive matchups such as Friday's, when he's forced to remain aggressive through all four quarters. Curry tallied his best scoring total since an even tougher contest, Dec. 5 against the Raptors, and recorded his second triple-double of the season in the process. His scoring total included a jaw-dropping half-court bank shot as the first half expired, adding to his already remarkable legacy a willing shooter from virtually anywhere on the floor. With 30-point-plus performances in six of his last eight contests, Curry is now averaging 29.1 points per game in January.

Curry totaled 25 points (8-18 FG, 3-9 3Pt, 6-6 FT), 11 assists, seven rebounds, two steals, and one block in 34 minutes during the Warriors' 125-94 win over the Bulls on Wednesday. Curry now has seven double-doubles and one triple-double on the season, and continues to post video game numbers on a nightly basis. The quest to beat the 1995-96 Bulls' NBA-best 72-10 record marches on, and only a minor leg injury has been able to slow Curry down so far in 2015-16.
Recent Tweets
Hey @UnderArmour, what should we do with all these #CurryTwo pairs? https://t.co/vdOsfrljkh

You have one week to gear up & support @StephenCurry30, @Money23Green & @KlayThompson in #NBAAllStarTO, #DubNation » https://t.co/Q1CWl0EK0D

Think an element of why the Warriors have been successful is that Curry hasn't seized power for the sake of having it