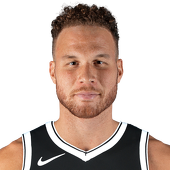 Own

98%

Start

5%

PF Rank

76
INJURY ALERT:
Out | Hand | Out until at least Mar 20
Player News
Griffin (hand) has been suspended four games without pay by the NBA, Marc J. Spears of Yahoo! Sports reports. The suspension, of course, comes in response to Griffin striking a team employee back on Jan. 23, an incident that left the forward with a broken hand. Griffin is not expected to return from that injury until sometime in mid-to-late March, and he won't be able to begin serving the four-game suspension until he's medically cleared and moved to active status. As a result, Griffin's absence will likely extend roughly a week longer than his injuries alone would have necessitated.

Griffin (hand) has been the subject of trade talks initiated by multiple NAB teams, the Los Angeles Times reports. Several teams have contacted the Clippers about Griffin broke his hand after he punched a team assistant equipment manager, but the team has no active interest in trading its power forward.

The Clippers believe that Griffin's broken right hand could actually take up to two months to fully heal, ESPN.com's Zach Lowe reports. After it was revealed earlier last week that Griffin fractured his hand while punching the Clippers' assistant equipment manager during an altercation in Toronto, the team projected him to miss four-to-six weeks. A two-month absence would give Griffin only two weeks of regular-season games before the playoffs begin, so fantasy owners in shallower formats without DL spots could be inclined to drop the big man from their roster if it becomes clear that he'll be out longer than initially anticipated.

The Clippers confirmed Tuesday afternoon that Griffin suffered a broken right hand and would be sidelined for approximately four-to-six weeks. Griffin was expected to return from a long-term quad injury at some point during the Clippers' current road trip, but those plans were quashed when the star forward had an altercation with the team's assistant equipment manager and hurt his hand while throwing a punch on Jan. 23 in Toronto. In conjunction with the NBA, the Clippers are going to investigate further into the incident, which possibly means that Griffin could be forced to serve as a suspension once he returns to active status, likely at some point in early-to-mid March. While Griffin remains sidelined, the Clippers will continue to roll out undersized lineups that mostly feature combinations of Luke Richard Mbah a Moute, Paul Pierce, and Wesley Johnson at the two forward spots.

Griffin has a broken hand and early estimates project him to miss 4-to-6 weeks, Dan Woike of the OC Register reports. In what's become the biggest story of the day, Griffin reportedly was involved in an altercation with a team equipment manager, leaving the All-Star with a broken hand. Griffin was already sitting out while rehabbing a quad injury, but this latest ailment will now keep him on the shelf until late-February or early-March. At this point, it's unclear whether Griffin could face additional discipline for the incident from the league or the Clippers.
Recent Tweets
They've shown two Blake Griffin highlights on scoreboard before Rising Stars Challenge.

A glimpse inside Sotto Sotto Ristorante, the scene of the Blake Griffin fight https://t.co/qOnHtZDypx@

DeAndre Jordan, asked if it was tough for Blake Griffin to miss All-Star game: "I think that's the least of his worries is the All-Star game