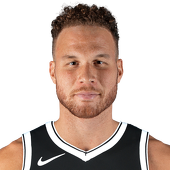 Own

100%

Start

99%

PF Rank

4
Latest News
Griffin tallied 27 points (11-20 FG, 1-1 3Pt, 4-6 FT), six rebounds, five assists, a block, and a steal over 37 minutes in Thursday's 124-117 loss to the Warriors. Griffin made his customary strong contributions across all categories, but the Clippers somehow came up short yet again versus a Golden State squad that has dominated their rivalry lately. Working in tandem with teammate Chris Paul, Griffin helped stake the Clippers to a seemingly safe lead that extended as high as 23 points in the second half. Irrespective of the disappointing outcome, Griffin continues to reward fantasy owners with his ability to stuff the stat sheet. He is also shooting particularly well over his last two contests (55.5 percent), following an 11-point, 16-minute abberration of an outing versus Phoenix on Nov. 12.

Griffin scored 34 points (14-25 FG, 6-10 FT) with nine assists, eight rebounds, two steals and a block in 42 minutes during Saturday's win over the Pistons. With Chris Paul (groin) and J.J. Redick (back) sidelined, Griffin ended up leading the Clippers in assists as he and Jamal Crawford combined to score 71 of the team's 101 points on the afternoon. Griffin is now averaging 24.3 points, 9.0 boards and 4.4 assists in seven November games.

Griffin posted 21 points (8-19 FG, 5-7 FT), nine rebounds, three assists, and one steal in 34 minutes of action Wednesday against the Mavericks. Griffin had been averaging 28.2 points, 10.4 rebounds, and 4.2 assists over five games prior to Wednesday, so his recent performance was rather sub-par. Still, that says a lot for the veteran, whose monster line Wednesday was still a good one to own in fantasy. Expect him to bounce back to 25-plus points on average moving forward.

Griffin totaled 35 points (14-22 FG, 7-8 FT), 11 rebounds, and five assists over 38 minutes in Saturday's 109-105 loss to the Rockets. Griffin practically served as the entire Clippers offense on a night when Chris Paul (groin) was sidelined and DeAndre Jordan was tasked with battling Dwight Howard over the majority of the game. The 26-year-old's minutes remained at 38 for a second consecutive contest, and he managed to go over 30 points for the third time in the Clippers' first six games. The double-double was also Griffin's third straight and fourth overall in the 2015-16 campaign. Perhaps the most encouraging aspect of Griffin's stellar season for fantasy owners so far has been the rock-solid consistency and production he has displayed across virtually every category, which hasn't always been the case in the past. The All-Star power forward now appears capable of thriving under any circumstance, even when valued pieces such as Paul are forced to miss time.

Griffin scored 37 points (13-22 FG, 11-15 FT) with nine rebounds, six assists and two steals in 36 minutes during Saturday's win over the Kings. He's had a great start to the season, and Griffin is averaging 32.0 points, 9.0 boards, 4.0 assists and 1.0 steals while shooting 64.4 percent from the floor through the first three games.
Recent Tweets
"It's up to us in how we react and go from here." - @blakegriffin32 Clippers vs. Nuggets » https://t.co/PalzKBjkV1 https://t.co/xCAYbocNwo

Doc Rivers said he thought Blake Griffin's knee bothered him Sunday: "It was the first game this year where I didn't think he moved as well.

Blake Griffin: "Big picture we're still okay."