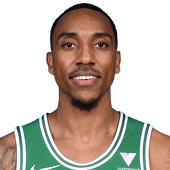 Own

100%

Start

89%

PG Rank

26
Player News
Teague compiled 24 points (10-17 FG, 3-5 3Pt, 1-1 FT), five assists, one rebound, and one steal across 35 minutes in Sunday's 96-94 loss to the Magic. Teague saw a few extra minutes with Dennis Schroder leaving early with a chin laceration, but he'll likely fade closer to the 30-minute mark in Monday's rematch with the Magic, as Schroder seems likely to be available for that contest. Nonetheless, Teague seems to be trending upward after enduring a mostly rough January. He's averaging 20.5 points, five assists, 3.5 boards, 2.5 treys, and 1.5 assists while shooting 58.5 percent from the field over his first four games in February.

Teague scored a season-high 32 points (12-15 FG, 5-6 3Pt, 3-3 FT) with eight assists, five rebounds, and one steal over 28 minutes in a 112-97 victory over the Mavericks on Monday. Entering Monday's contest, the Hawks had dropped five of their last six, resulting in coach Mike Budenholzer trying new rotations -- in some instances, coming at the expense of Teague's court time. Teague's offensive barrage helped Atlanta cruise past a surging Mavericks team, however, as he guided the Hawks to a combined 52.5 field goal percentage. Provided Teague and Kyle Korver continue scoring at a formidable rate in the team's backcourt, fantasy owners won't have to worry about Dennis Schroder or Tim Hardaway Jr. stealing minutes.

Teague had 20 points (7-12 FG, 2-2 3Pt, 4-4 FT), five assists, a rebound and a steal on Thursday in a loss against the Pacers. Teague was one of the few bright spots for the Hawks in a blowout loss on Thursday. The 20 points are his most in the month of January, one which has been a shock to Teague, in that he's lost minutes from time-to-time to Dennis Schroder. The backcourt situation remains a quite inconsistent one for the Hawks at the moment, and it may take some time to finally see some clarity there.

Teague scored 12 points (5-11 FG, 2-2 FT, 0-1 3Pt) to go along with 10 assists, three rebounds and three steals in just 26 minutes during Monday's win over the Nuggets. Although he has been providing underwhelming returns of late, Teague capitalized on a choice matchup Monday to record his first double-double since Dec. 2, despite playing fewer than 30 minutes again in an easy win. His averages have plummeted to 10.5 points and 4.3 assists in just 25.3 minutes this month, but perhaps Monday's performance can vault the 27-year-old back to the heights of the serviceable fantasy performer from the last few seasons.

Teague contributed 14 points (5-10 FG, 3-3 3Pt, 1-1 FT), four rebounds, two assists, and one steal across 24 minutes in Monday's 98-81 win over the Magic. Teague's playing time was affected by the Hawks blowing out the Magic, but he's often been on the wrong side of the 30-minute mark too often of late. He's played fewer than 30 minutes in all but one of the last seven games, and is averaging just 11.3 points, 4.4 assists, 2.6 rebounds, 1.6 three-pointers, 1.1 steals in that span. Feel free to avoid Teague in DFS formats until his minutes trend back upward again.
Recent Tweets
Teague makes only 1 of 3. Naturally.

Another horrid offensive trip but Teague gets bailed out and will head to the line for 3.

Teague's straight-on three barely drew rim.