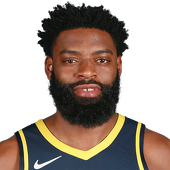 Own

81%

Start

17%

PG Rank

23
INJURY ALERT:
Out | Knee | Out for season
Player News
Evans underwent successful surgery on his right knee Thursday and will miss the remainder of the season, John Reid of the New Orleans Times-Picayune reports. Evans had a second opinion taken on his knee injury, but the result was the same and he was encouraged to undergo surgery. That surgery occurred on Thursday and was successful, which rules Evans out for the remainder of the 2015-16 season. Evans has one year left on his current contract and will be back with Pelicans next year with a cap hit of just over $10 million. A concrete timetable has yet to be determined, so it remains unclear if he'll be ready to go come training camp.

Coach Alvin Gentry clarified Wednesday morning that it hasn't been determined yet if Evans will require season-ending surgery on his right knee. "He's seeing some specialists and getting some second opinions," Gentry said. "We'll see where that leads. That's basically it right now." A report filed earlier in the day by Yahoo! Sports' Shams Charania first suggested that Evans, who had only previously been ruled out through the All-Star break with right knee tendinitis, would undergo surgery, but it appears the Pelicans are exploring all avenues before making a decision on the combo guard's availability for the remainder of the season. Once the Pelicans have gathered sufficient information from medical experts, an update on Evans' status should be provided, but the fact that a season-ending procedure even remains a possibility for the 26-year-old is quite worrisome. He can likely be dropped in most formats with a quick return -- or any return at all -- seemingly not on the horizon.

Evans is expected to undergo surgery on his right knee in the near future, which would likely end his season, Shams Charania of Yahoo! Sports reports. Evans hasn't played since Jan. 25 after experiencing recurring tendinitis in the knee, and the Pelicans had planned to reevaluate his condition after the All-Star break. It appears he hasn't progressed in his recovery since being shut down, and with the Pelicans seemingly out of the running for the postseason, Evans has little incentive to play through the injury at less than 100 percent health. If Evans indeed goes under the knife again, it would mark his third procedure on the right knee since May, and it's fair to wonder if the 26-year-old will ever be able to stay on the court for a full season over the remainder of his career. The Pelicans were said to be shopping Evans with the hope of finding a suitor for his services, but the prospect of a season-ending surgery will end those discussions.

Evans (knee) will remain out through the All-Star break, Pelicans radio announcer Sean Kelley reports. This does not come as a big surprise, as he has now missed five straight games, and is about to miss his sixth in a row on Saturday against the Cavaliers. Dante Cunningham will get the start at the three on Saturday, with Alonzo Gee heading to the bench. This means the soonest Evans could return is Feb. 19 against the Sixers.

Evans (knee) has been ruled out for Saturday's matchup with the Cavaliers. Evans will miss a sixth consecutive game as he continues to deal with tendinitis in his right knee. The Memphis product is without a timetable and is being evaluated on a game-to-game basis. With Eric Gordon (finger) also out, the Pels will likely go with a backcourt pairing of Norris Cole and Bryce Dejean-Jones again Saturday night.
Recent Tweets
Just landed in Toronto to the release from the Pelicans that Tyreke Evans is officially out for the season after right knee surgery.

That was Tyreke Evans' third surgery since May and he will miss the remainder of the season.

Tyreke Evans undergoes successful surgery, according to the Pelicans. I guess those second opinions said get the surgery done.