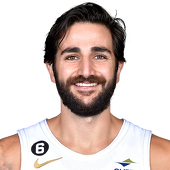 Own

99%

Start

84%

PG Rank

24
Player News
Rubio recorded 19 points (5-9 FG, 3-6 3Pt, 6-6 FT), eight rebounds, eight assists, and one steal in 37 minutes during the Timberwolves' 117-112 victory versus the Raptors on Wednesday. Rubio had his highest scoring game since the season opener versus the Lakers, during which he dropped a career-high 28 points and added 14 dimes en route to a win. Rubio hand't made a three-pointer in February until Wednesday, and was 1-for-18 from beyond the arc in the team's previous 10 contests. He has hit 31 triples this season, and needs to nail 14 more this season to surpass his previous high of 44 made treys back in 2013-14.

Rubio recorded 10 points (4-10 FG, 0-2 3Pt, 2-2 FT), 15 assists, two rebounds, and one steal in 29 minutes during the Timberwolves' 119-115 loss versus the Lakers on Tuesday. Enjoying averages of 7.2 points, 10.4 assists, 3.4 rebounds, and 2.2 steals in 30 minutes per contest over the five most recent games, Rubio now has six double-doubles on the season. The elite passer and defender is shooting 35 percent from the field in 2015-16, which is ugly even when considering that he takes only eight field goal attempts per game. Still, Rubio's ability to contribute decently in most other categories (excluding threes and blocks) makes him useful across all fantasy formats.

Rubio scored 15 points with 12 assists and six rebounds in 29 minutes in Saturday's win over Memphis. He matched a career high with 13 free throw attempts (11-of-13). Rubio hasn't improved his shooting in his fifth season as his 35.2 percent from the field would be a career low. However, he could be more of a factor on offense if he can get to the free throw line more by driving to the basket.

Rubio recorded 18 points (6-11 FG, 2-5 3Pt, 4-4 FT), three assists, two rebounds, and two steals in 24 minutes during the Timberwolves' 117-87 victory versus the Suns on Sunday. Rubio is averaging 9.6 points (44.4 FG, 38.5 3Pt, 78.6 FT), 6.2 assists to 3.2 turnovers, four rebounds, 2.2 steals, and 0.2 blocks in 27 minutes per game over the past five contests. His assists and minutes are down of late thanks to the fact that he played only 24 minutes in each of the previous two match-ups. However, after sinking only three three-pointers through the end of November, Rubio made 12 in December, and has already drilled 11 in January.

Rubio scored seven points (3-11 FG, 0-2 3Pt, 1-2 FT) to go with 10 assists and three steals over 33 minutes in Monday's 109-99 loss to the 76ers. Rubio is shooting just 31.3 percent from the field over his past five games, a mark that's awful even by his low standards. The Spaniard has at least averaged 11.2 assists during that same stretch, but any hope that the 25-year-old will eventually fix his broken jump shot has probably faded at this point.
Recent Tweets
Final Stats: @KarlTowns: 35pts 11rbs 3blks @22wiggins: 26pts 3rbs @rickyrubio9: 19pts 8rbs 8ast @GorguiDieng: 14pts 10rbs 6ast #WolvesWin

That's a sweet win. Coming back down big against that team? KAT, Rubio, Wiggins doing awesome stuff? Yes please. I'll take more.

KAT gonna RISE!! Thunder Jam from Ricky. 😸