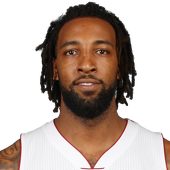 Own

8%

Start

1%

PF Rank

NR
Latest News
Williams failed to score in a season low four minutes off the bench Monday in the Knicks' 95-78 loss in Miami. His minutes have fluctuated throughout the first 15 games of the season, but Williams saw the least amount of minutes Monday that he has all year. He's been able to score 6.9 points even though he plays only 12.1 minutes per game, as he continues to be slotted behind Kristaps Porzingis on the depth chart. Also, he will continue to battle with Lou Amundson for the backup power forward spot.

Williams tallied 14 points (4-9 FG, 2-6 3Pt, 4-6 FT), two rebounds, two assists, one steal and one block across 19 minutes in an 99-87 loss to the Celtics on Thursday. Williams missed practice earlier in the week because of an illness, but that didn't seem to hamper him here. This has been a great preseason for Williams and he may play the most minutes in his career on a bad team like the Knicks. With that said, there seems to be an abundance of undersized forwards on this New York roster and some regular season gameplay will be the only way to know exactly what Williams role will be this season.

Williams missed Monday's practice with an illness, Ian Begley of ESPN New York reports. The Knicks won't play their next (and final) preseason game until Thursday in Boston, so Williams should have adequate time to nurse himself back to full health. Williams has been a standout performer for the Knicks during exhibition play and remains in the mix with Kristaps Porzingis and Kyle O'Quinn to start at power forward this season.

Knicks forward Derrick Williams amassed 14 points (6-10 FG, 2-4 3Pt), two assists, and five rebounds over 19 minutes in Saturday's 97-93 loss to the Hornets. Williams continued his stellar preseason, one in which he has flashed the talent that made him a first-round pick. The 24-year-old would certainly figure to be on the Knicks' final roster, and the only question appears to be how far up the power forward depth chart he is able to climb. Kyle O'Quinn and rookie Kristaps Porzingis currently stand in between Williams and the starter's job but no matter the outcome of their competition, Williams has at a minimum staked a right to consistent minutes in the regular season.

Knicks forward Derrick Williams poured in a game-high 21 points on 8 of 12 shooting and added three rebounds, an assist, and a steal over 25 minutes in the Monday preseason game against Philadelphia. With Kristaps Porzingis (left quad strain) sidelined, Williams and Kyle O'Quinn both received extended chances to audition for the starting power forward job. It was Williams who shined the brightest of the two, surpassing the 20-point mark for the second straight game. Though he did turn over the ball six times, he made up for it by showcasing plenty of touch near the rim to go along with impressive range from deep. At the very least, the former No. 2 overall pick is making a strong case for an integral rotation role as he's averaging 16.7 points on 63 percent shooting from the field during the preseason.
Recent Tweets
Fisher still searching for a rotation. Held Langston to 4 minutes, Grant to 5. Down 11 at half - 46-35. No DWilliams.

Derrick Williams appears out of the rotation.

When Michael Carter-Williams understands that he shouldn't shoot and becomes more like Shaun Livingston, he'll be a lot better off.