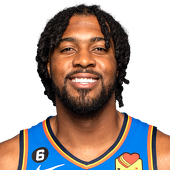 Own

100%

Start

91%

PF Rank

17
Player News
Favors scored 29 points (11-15 FG, 2-9 3PT, 5-7 FT), collected five rebounds and contributed two assists over 39 minutes during Wednesday's loss to the Pelicans. Favors had scored in double-digits in every game since his return from injury Jan. 22 and took it even further on Wednesday night. His 29 points is the second-highest scoring total of what has been an impressive season for the sixth-year man. Favors had been averaging 14.1 points on 46 percent shooting over his last eight games but this performance is a clear departure from that trend. Favors should continue his solid scoring and can contribute in rebounds and blocks as well.

Favors recorded 16 points (7-14 FG, 2-4 FT), eight rebounds, six assists, and one steal in 35 minutes during the Jazz's 121-119 overtime win against the Mavericks on Tuesday. Favors is putting up 13.4 points, 9.8 rebounds, three blocks, 1.6 assists, and 0.8 steals in 34 minutes per contest during the first five games of February. Though his shot has been off for the most part since returning from injury, the fact that his back spasms haven't re-surfaced is rather encouraging. As evidenced by this recent stretch of showings, Favors is a capable contributor in every category except three-point shooting.

Favors registered 11 points (4-15 FG, 3-6 FT), 15 rebounds, an assist, two steals and five blocks over 32 minutes in Friday's 84-81 victory over the Bucks. The six-year veteran overcame some shooting struggles to put together his second straight double-double and serve as a force on defense for the third straight contest. Favors is now averaging an outstanding five blocks per game over three February contests, while also hauling in 11.3 rebounds per night. He's also posted six consecutive double-digit scoring performances since returning from his recent 16-game absence due to a back injury, unequivocally putting any doubts about his health to rest for the time being.

Favors recorded 16 points (7-14 FG, 2-4 FT), 11 rebounds, and six blocks in 35 minutes during the Jazz's 85-81 victory versus the Nuggets on Wednesday. In five games since making his return to the lineup from a lengthy absence due to back spasms, Favors has quickly re-found his form, averaging 15 points on 51 percent from the field, 7.2 rebounds, 2.2 blocks, 0.8 assists, and 0.2 steals in 30 minutes per contest. The Jazz have won four in a row, Favors has 10 blocks in the last two games combined, and at the moment Utah remains mere percentage points behind the Trail Blazers for the eighth and final playoff spot out West.

Favors scored 20 points (9-16 FG, 2-3 FT) while adding nine rebounds and a block in 35 minutes during Friday's win over the Timberwolves. The Jazz had Favors and Rudy Gobert in the starting lineup together for the first time in two months, and the duo helped Utah to their third win on the last four games. Favors has had a rough year so far when it comes to injuries, but he's still averaging a career-best 16.7 points per game and if he can stay on the court in the second half he could put up some strong numbers.
Recent Tweets
"when the tank gets to empty and the red light comes on in the car? That's what happened." Derrick Favors https://t.co/tAkVH5aH87

Derrick Favors' All-Star break plans sound awesome. "Go home and hang with my kids." #daddytime