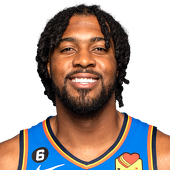 Own

100%

Start

89%

PF Rank

17
Player News
Favors registered 11 points (4-15 FG, 3-6 FT), 15 rebounds, an assist, two steals and five blocks over 32 minutes in Friday's 84-81 victory over the Bucks. The six-year veteran overcame some shooting struggles to put together his second straight double-double and serve as a force on defense for the third straight contest. Favors is now averaging an outstanding five blocks per game over three February contests, while also hauling in 11.3 rebounds per night. He's also posted six consecutive double-digit scoring performances since returning from his recent 16-game absence due to a back injury, unequivocally putting any doubts about his health to rest for the time being.

Favors recorded 16 points (7-14 FG, 2-4 FT), 11 rebounds, and six blocks in 35 minutes during the Jazz's 85-81 victory versus the Nuggets on Wednesday. In five games since making his return to the lineup from a lengthy absence due to back spasms, Favors has quickly re-found his form, averaging 15 points on 51 percent from the field, 7.2 rebounds, 2.2 blocks, 0.8 assists, and 0.2 steals in 30 minutes per contest. The Jazz have won four in a row, Favors has 10 blocks in the last two games combined, and at the moment Utah remains mere percentage points behind the Trail Blazers for the eighth and final playoff spot out West.

Favors scored 20 points (9-16 FG, 2-3 FT) while adding nine rebounds and a block in 35 minutes during Friday's win over the Timberwolves. The Jazz had Favors and Rudy Gobert in the starting lineup together for the first time in two months, and the duo helped Utah to their third win on the last four games. Favors has had a rough year so far when it comes to injuries, but he's still averaging a career-best 16.7 points per game and if he can stay on the court in the second half he could put up some strong numbers.

Favors will return to the starting lineup Friday versus the Timberwolves, Jody Genessy the Deseret News reports. After missing 16 consecutive games due to back spasms, Favors has come off the bench the previous two games for the Jazz. He will finally return to the starting lineup Friday, replacing Trey Lyles. Favors played 20 and 21 minutes in his first two games back, and likely will not play extended minutes yet. All things appear to be trending in the right direction for the veteran big man however, and he should be set to take on his normal workload in the near future.

Favors is expected to move into the starting lineup for Friday's game against the Timberwolves, David Locke of 1280 AM The Zone reports. Favors has seen 20 and 21 minutes respectively in his first two games back from injury while coming off the bench. He's expected to move back into the starting lineup for Friday's outing with the Timberwolves, which could mean another few minutes of increased playing time as well. With Favors moving into the starting lineup, look for Trey Lyles to come off the bench in the corresponding move.
Recent Tweets
Derrick Favors said the fast start by the Jazz was good, because the team started to fatigue late, but had a cushion to work with

Derrick Favors dunk. Game. Set. Match.