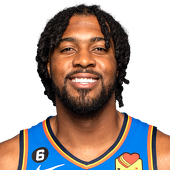 Own

100%

Start

87%

PF Rank

20
Latest News
Favors (personal) returned to practice Sunday, Jody Genessy of Deseret News reports. Favors missed Saturday's game against the Pelicans due to personal reasons, but he was back at practice Sunday. Considering he returned to practice, Favors should be available to return to the starting lineup for Monday's matchup with the Warriors, which will send Trevor Booker back to a bench role.

Favors (personal) will not play in Saturday's contest against the Pelicans, David Locke, radio voice of the Utah Jazz, reports. Favors has been excused from Saturday's game due to personal reasons, but it's unclear what exactly will keep the 24-year-old forward from playing in the contest. Trevor Booker is likely to start in Favors place; however, more information regarding the incident should surface later in the evening.

Favors grabbed a double-double with 18 points (7-9 FG, 4-7 FT), 11 rebounds, one assist, and one steal in 32 minutes Wednesday against the Raptors. Favors logged his fourth double-double of the season, and is looking like he's in the midst of a min-hot streak. He's averaging 17.6 points on 59 percent shooting from the field over the last five games (compared to just 53 percent FG for the season). That being said, even when he eventually cools off, Favors is contributing enough points, rebounds, steals, and blocks to be worth owning in most leagues.

Favors exploded for a monster line Thursday against the Heat, posting 25 points (10-18 FG, 5-7 FT), 12 rebounds, two assists, three steals, and seven blocks in 40 minutes of action. Thursday marked one of Favors' best performances of the season, and it's encouraging to see him get active again in the blocking department after averaging just 1.0 BPG this season prior to this outing. Favors has always been good at scoring, rebounding, and grabbing defensive stats, so games like Thursday's can be expected once in awhile.

Favors scored 17 points (7-12 FG, 3-6 FT) with nine rebounds, four assists and two steals over 35 minutes in Tuesday's 118-114 loss to the Cavaliers. Favors did a nice job limiting Kevin Love and fell a rebound short of his third double-double of the season. He was dealing with flu-like symptoms last week, but it seems he's feeling just fine now.
Recent Tweets
Derrick Favors did an incredible job contesting Curry's shot that tied the game at 99-99 https://t.co/gPD5mSf8oz

Derrick Favors leads the Jazz with 23 points and 10 rebounds.....Gordon Hayward has 24 points, six rebounds and four assists