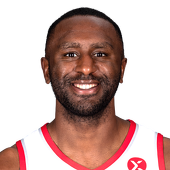 Own

14%

Start

3%

PF Rank

66
Latest News
Patterson has failed to score in double figures in nine of his last ten games. Patterson has been getting solid minutes off the bench, as he is averaging 20 per game on the season and is splitting time with Luis Scola, but the power forward simply isn't being productive enough offensively to have much fantasy relevance. Patterson currently boasts averages of just 5.3 points and 3.5 rebounds per game through 11 outings this year.

Patterson scored 16 points (6-9 FG, 4-5 3Pt) with three rebounds in 24 minutes off the bench during Sunday's win over the Bucks. After struggling in the preseason and losing the starting power forward spot to Luis Scola, Patterson has looked great as a stretch four on the Raptors second unit to begin the regular season, going 8-for-15 from beyond the arc. His minutes and upside are limited in that role, but if he continues playing well he could supplant Scola in the starting lineup.

Patterson played 19 minutes off the bench Wednesday, scoring eight points with four rebounds, two three-pointers, an assist and a steal. He split court time roughly equally with Luis Scola at power forward but put up a better stat line, and if that trend continues Patterson could work his way into the starting five. He has a little fantasy upside as a stretch four if he can get consistent minutes, but at the moment there's no reason to have Patterson on your roster.

Raptors power forward Patrick Patterson appears to have lost his starting spot, the Toronto Sun reports. Luis Scola started the last two preseason games, and head coach Dwane Casey indicated after Sunday practice that his lineup was probably set heading into the regular season. Patterson has played poorly this preseason, but with the pressure of starting now off his shoulders he might be an effective stretch four again coming off the bench.

Raptors forward Patrick Patterson has started at power forward in all three of the Raptors' preseason games and is averaging eight points, 5.3 rebounds, and 1.9 assists in 18.7 minutes per game. It looks like the offseason departure of Amir Johnson will pave the way for Patterson to serve as the Raptors' starting power forward this season, at least initially. Lucas Scola, James Johnson, and Bismack Biyombo are the top candidates to see minutes behind Patterson, but the 26-year-old's ability to knock down three-pointers at a respectable clip will give the Raptors their most versatile lineup. Though it's difficult to see Patterson serving as much more than a third or fourth option offensively when he's on the court, the expected uptick in playing time that he'll receive may be enough for him to finish will career-highs this season in multiple categories.
Recent Tweets
Patterson and James Johnson played identical minutes in the second quarter. Difference was Johnson didn't play again, PP played entire 4th

Only 13 assists for Raptors, but unselfish passes from Lowry, then DeRozan, create open Patterson three. Then Lowry feeds Biyombo for jam.

Yes, Lowry has been next-level-good tonight but Carroll, Biyombo, Patterson, DeRozan (and 1st-quarter Scola) have all been huge.