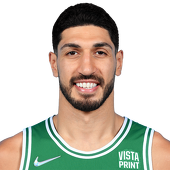 Own

95%

Start

57%

C Rank

24
Latest News
Kanter grabbed a double-double Wednesday against the Pelicans, posting 24 points (8-15 FG, 8-12 FT) and 14 rebounds in 31 minutes. Kanter has embraced his role of the bench, averaging 14.0 points and 7.4 rebounds in 21.2 minutes over the last five games. He isn't racking up too many blocks, which limits his upside. Additionally, he's still playing limited minutes behind Steven Adams, and there's no sign that his situation will change much sooner, so owners will have to make the most of his scoring and rebounding contribution until he can see a larger role on the Thunder.

Kanter scored 16 points (5-6 FG, 6-6 FT) and grabbed seven rebounds over 17 minutes in Monday's loss to the Grizzlies. With an average of eight rebounds over 20.5 minutes per game this season, Kanter has been one of the league's more efficient glass cleaners, but it's yet to translate in a dramatic rise in playing time. In fact, even with the Thunder in need of some contributors to step up in the absence of Kevin Durant (hamstring), Kanter has seen less than 20 minutes in each of the three games Durant has missed thus far. It's clear that Kanter is still in need of some improvement with his defensive positioning, which may continue to result in him seeing a static role behind starting center Steven Adams.

Kanter contributed 21 points (9-10 FG, 3-3 FT), seven rebounds, one assist, and one block in 28 minutes during the Thunder's 124-103 win versus the Suns on Sunday. Coach Billy Donovan has continued to bring Kanter off the bench behind Steven Adams, who has provided defensive toughness at center. Though it's not out of the realm of possibility for Kanter to leapfrog Adams in the rotation, it's also possible that coming off the bench is the best thing for Kanter, who might have a more featured offensive role with the second unit. As it stands, the 6-11 Swiss center from Kentucky is producing admirably given the fact that he's basically been splitting time with Adams. Expect Kanter to continue producing a fair amount of points and rebounds, but don't expect much on the defensive side of the ball barring serious improvements.

Kanter posted 11 points (3-7 FG, 5-5 FT), eight rebounds, one assist, and one block in 22 minutes of action Thursday against the Bulls. Kanter continues to come off the bench, but has managed to be a decent source of points and rebounds as a reserve. He's averaging 10.8 points, 8.4 rebounds, and 1.2 assists over the last five games. In spite of his lack of contribution in defensive categories, he's still a low-end option in standard leagues.

Kanter (rest) will not play in Tuesday's preseason game against the Jazz, Tony Jones of the Salt Lake Tribune reports. It doesn't appear as if Kanter will miss Tuesday's game due to an injury, so it's likely the Thunder are just being cautious after the 23-year-old sprained his ankle last week. Kanter has been a monster at times during the preseason, and he could lead a surprisingly potent second unit if he continues to slot behind Steven Adams on the depth chart.
Recent Tweets
Off the break, Enes Kanter dunks at the buzzer. Thunder leads Jazz at halftime 63-46. OKC shoots almost 60%.

Collison & Kanter both score in double-figures. Stats: https://t.co/51R49wA0gM & Thunder App. @BudLight Photo https://t.co/yTkEovnFlT

Enes Kanter takes Russell Westbrook's 9th assist & scores @ the buzzer to end 3rd. Thunder leads Mavs 87-85 headed to 4th #ThunderBasketball