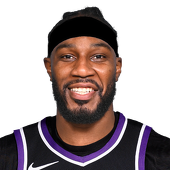 Own

73%

Start

46%

SF Rank

NR
Latest News
Crowder scored a season-high 19 points (8-12 FG, 3-6 3Pt) with five rebounds, three steals and two assists in 28 minutes during Friday's win over the Nets. He's now scored in double digits in five straight games, and Crowder seems completely recovered from the knee injury that slowed him down earlier in the month. He's rarely going to be the main weapon on a Celtics team dominated by its backcourt, but Crowder can provide valuable secondary scoring when he's dialed in.

Crowder posted an efficient 16 points from 7-for-10 shooting and added two steals, three boards and a three-pointer in the Celtic blowout win in Houston. Crowder continues to start for Boston and has averaged 31 minutes of play over his last five games. He also continues to lead the league in steals, with three swipes per game. Crowder makes for a sneaky free agent pick-up for teams searching for steals and three-pointers.

Crowder posted 12 points (3-12 FG, 2-7 3Pt, 4-5 FT), two rebounds, two assists, and four steals in 37 minutes of action Tuesday against the Bucks. Crowder didn't have a good shooting night, but he still contributed four steals. He's averaging 3.4 SPG over the last five games and continues to be a solid fantasy option because of his defensive contribution.

Crowder (knee) will start Tuesday's game at Milwaukee. Crowder sustained an injury to his left knee in the Celtics' last game Friday, but after practice Monday, he was all but cleared to in the first contest of this week. Taking on his role as the team's starting small forward, he should earn upwards of 30 minutes.

Crowder (knee) practiced Monday and will be available Tuesday against the Bucks, Jay King of MassLive.com reports. Crowder suffered a minor bone bruise to his knee Friday, but after being limited over the weekend, it doesn't look like the issue will cost him any time. Expect Crowder to play his usual compliment of minutes Tuesday, and he's coming off of a 12-point, 10-rebound performance against Washington. The Marquette product is averaging 10.4 points and 6.0 rebounds on the season (29.8 minutes per game).
Recent Tweets
#Celtics Brad Stevens indicated there could be more times where Jae Crowder starts second half on bench to save him for small lineup late.

Jae Crowder returns to the starting lineup after coming off the bench for the second half Wednesday night. Evan Turner will come off bench.

RE: offensive fouls on Crowder's 3-point attempts, Brad Stevens tells Jae, "Be alert to it but don't change how you're comfortable shooting"