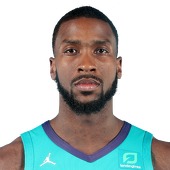 Own

7%

Start

0%

SF Rank

NR
INJURY ALERT:
Out | Shoulder | Out until at least early April
Latest News
Hornets forward Michael Kidd-Gilchrist underwent successful surgery Tuesday on the torn labrum in his right shoulder. The normal recovery time for such an injury is six months, so expect Kidd-Gilchrist to be sidelined till at least the beginning of April. Considering the playoffs start in mid-April, he very well could miss the entire season. With Kidd-Gilchrist on the long road to recovery, Nicolas Batum may be forced to move over to small forward, which would then open up opportunities for Jeremy Lamb and Jeremy Lin at shooting guard.

Hornets forward Michael Kidd-Gilchrist will have surgery to repair a torn labrum in his right shoulder Tuesday. That surgery will likely end his 2015-16 season and force the Hornets to find a new starting small forward. Nicolas Batum could see additional minutes at the small forward spot, however Jeremy Lamb and Marvin Williams could see time there as well if Charlotte chooses to use Batum as a small-ball power forward.

Guard Damien Wilkins reached agreement on a one-year contract with the Hornets on Monday, the Charlotte Observer reports. With Michael Kidd-Gilchrist slated to miss the remainder of the regular season with a torn labrum in his right shoulder, the Hornets elected to bring in Wilkins for a look during training camp. Considering he last played in the NBA in 2012-13 as a member of the 76ers, the 35-year-old is no lock to make the Hornets' opening night roster.

Hornets forward Michael Kidd-Gilchrist suffered a dislocated right shoulder in Saturday's preseason win over the Magic and is expected to miss several weeks, the Charlotte Observer reports. The injury occurred when Kidd-Gilchrist was sent flying hard to the floor after a foul by the Magic's Tobias Harris. He remained in Orlando overnight for X-rays on the shoulder, which came back negative but revealed a dislocation. He'll be officially reevaluated Monday, but a dislocated shoulder typically requires 3-12 weeks of recovery time, making it quite likely that Kidd-Gilchrist misses the Oct. 28 regular-season opener in Miami. It's not clear how much time beyond that Kidd-Gilchrist will be sidelined, but it should be clarified as he progresses from the injury. In Kidd-Gilchrist's absence, the Hornets could opt to move Nicolas Batum over from shooting guard to small forward, which may pave the way for Jeremy Lin, Jeremy Lamb, P.J. Hairston, or Troy Daniels to temporarily ascend to the starting lineup.

Hornets forward Michael Kidd-Gilchrist left Saturday's preseason game with an injury to his shoulder, the Orlando Sentinel reports. Kidd-Gilchrist was injured after falling to the floor during Saturday's preseason game against the Magic. The severity of the injury is unknown at this point, however with the season right around the corner more information should be available shortly. The 22-year-old starting small forward had just signed a four-year, $52 million contract extension in the beginning of the September and was considered by some a sleeper heading into the season after averaging nearly 11 points and eight rebounds in 28 minutes a game last year.
Recent Tweets
Michael Jordan sitting courtside.

Spencer Hawes beats the shot clock with a 3, does a Michael Jordan shrug running down court.

Michael Jordan and Curtis Polk sitting next to @hornets bench.