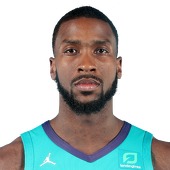 Own

80%

Start

46%

SF Rank

NR
Player News
Kidd-Gilchrist scored 11 points (5-14 FG, 0-1 3pt, 1-2 FT) to go with 13 rebounds over 37 minutes in a 106-97 victory over the Cavaliers on Wednesday. Kidd-Gilchrist's defense has been a welcome presence in coach Steve Clifford's rotation. After being sidelined with a shoulder injury through the first three months of the season, Kidd-Gilchrist hasn't missed a step in his return to action -- averaging a double-double (14.3 points with 10.7 boards) in his first three games of the year. If Kidd-Gilchrist was up to the task of guarding LeBron James, we can safely assume he's made a full recovery from surgery.

Kidd-Gilchrist scored 19 points (6-7 FG, 2-2 3Pt, 5-8 FT) while adding 12 rebounds, three assists and a steal in 28 minutes during Sunday's win over the Lakers. The Hornets were ahead by 23 points heading into the fourth quarter, otherwise Kidd-Gilchrist might have seen more action and put up an even better line. He looks fully fit after missing the first 46 games of the season with a shoulder injury, and MKG could become a regular double-double threat in the second half.

Kidd-Gilchrist (shoulder) made his season debut and scored 13 points (5-8 FG, 3-6 FT), posted seven rebounds and dished out an assist over 34 minutes in Friday's 109-91 loss to the Trail Blazers. The four-year pro wasted no time getting right back into the swing of things after offseason shoulder surgery, playing a robust 34 minutes and turning in both a productive and mistake-free performance. Kidd-Gilchrist did not commit any turnovers or get whistled for any personal fouls, a notable feat considering the amount of rust he was trying to shake off. He appeared fully capable of handling the full workload he took on, meaning he should receive plenty of opportunity to build on Friday's effort in the coming days. While fantasy owners will need to see him string several successful performances together to be convinced, the 22-year-old could hardly have made a better first impression considering his surprisingly early return from this injury.

Kidd-Gilchrist (shoulder) will play and start Friday when the Hornets take on the Trail Blazers. Kidd-Gilchrist will make his season debut well ahead of schedule Friday. He was originally expected to miss six-months after surgery in October, but he will return after a mere three month absence. His minutes are up in the air, but the Hornets starting him indicates he should see a decent workload. His role with the team will have to be monitored going forward, but this is obviously good news for all owners.

Kidd-Gilchrist (shoulder) will be available to play against Portland, Marc J. Spears of Yahoo Sports reports. Kidd-Gilchrist appears to be ahead of schedule as he initially had a six-month recovery time table after his shoulder surgery in October. Although he's cleared to play, it wouldn't come as much of a surprise if he continues to be sidelined for a couple of games. If Kidd-Gilchrist takes the court tonight, he will slide right back into his starting role, coach Steve Clifford says.
Recent Tweets
A look at Michael Kidd-Gilchrist's return to the court by correspondent extraordinaire @BKiser_CLTObs https://t.co/E2lsTZ3mAH

The loss aside, Michael Kidd-Gilchrist put in a strong performance his first game back. https://t.co/FQ1ygAJ45B https://t.co/J66F5lWIOg

Michael Kidd-Gilchrist has been cleared for tonight's game. MKG SECURITY IS BACK! https://t.co/y92VHGxuZ5 https://t.co/TFI1P6wCCL