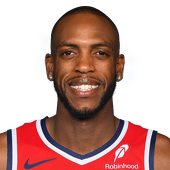 Own

100%

Start

85%

SG Rank

38
Player News
Middleton scored 18 points (6-16 FG, 1-4 3Pt, 5-5 FT), six rebounds, two assists and three steals over 40 minutes in Friday's 84-81 loss to the Jazz. Middleton spearheaded the Bucks offense on a night where they struggled against the Jazz's suffocating defense. The 24-year-old did continue to scuffle from the field, tallying his fifth consecutive sub-40-percent shooting night after only experiencing four over the prior 19 games. Despite the struggles, Middleton continues to provide solid numbers across virtually every category, and will experience a nice uptick when he breaks out of his current shooting slump. A return to a figure closer to the 20.7 points per game he averaged in January while shooting 10 percentage points higher (44 percent) than he currently is in three February games is certainly not out of the question

Middleton managed 21 points (7-22 FG, 2-5 3Pt, 5-8 FT), eight rebounds, three assists, and three steals in 39 minutes during the Bucks' 107-95 loss to the Trail Blazers on Tuesday. Middleton is just 21-of-71 from the field over the last four games, and he is averaging under 15 points per game during that stretch. However, he had scored 20 or more points in the 10 of 11 contests prior to that, and Middleton remains one of the most effective wings both in real life and fantasy.

Middleton tallied 15 points (6-18 FG, 1-4 3Pt, 2-2 FT), five rebounds, six assists and three steals over 32 minutes in Thursday's 103-83 loss to the Grizzlies. Despite the tough shooting night, Middleton found a way to stuff the stat sheet and turn in a solid defensive game as well. The four-year pro has really hit his stride in January, boosting his points-per-game average (21.5) almost three full points over his December figure of 18.6, while also managing notable jumps in his rebounds (4.2) and assists (5.2) figures. Middleton's ability to contribute consistently in multiple categories has made him one of the more well-rounded two-guards in the league and also rendered him particularly valuable in all fantasy formats, considering many players at his position are heavily scoring-dependent for fantasy production.

Middleton managed 25 points (6-14 FG, 2-4 3Pt, 11-11 FT), seven assists, five rebounds, and one assist in 36 minutes during the Bucks' 107-100 victory versus the Magic on Tuesday. Middleton has scored 20 or more points in seven straight, and in 15 of the last 19 contests. He is making the lowest percentage of his threes over this month, but he has increased his shots per game without his overall field goal percentage suffering.

Middleton scored 22 points (8-16 FG, 4-7 3Pt, 2-2 FT) while adding seven rebounds and five assists in 33 minutes during Saturday's loss to the Pelicans. He continues to fill up the bucket, and Middleton has now scored 20 or more points in six straight games and nine of his last 10, averaging 22.9 points, 5.1 assists, 4.2 boards, 1.6 threes and 1.0 steals over that stretch. The Bucks also have a marginally better record during that run, going 5-5, so look for Middleton to continue being the focal point of their offense as long as he's producing.
Recent Tweets
Khris is going to Canada and now is your chance to win » https://t.co/JlY026NgHR https://t.co/fwdf8mJ0SU

Jazz hangs on for 84-81 win. Bucks had chance to tie after steal but Middleton can't get free, misses off-balance 3. Road trip 0-3.